The quest for the best refill spool
(I refuse to call it the masterspool, because that's a terrible name for something named in 2018)
The idea behind this is to design a spool that can be 3d printed and then used with coils of filament you can buy from filament manufactures without a spool, thus avoiding shipping the additional weight and volume of the spool. By standardising on the dimensions of this universal spool, many filament manufacturers could provide identical coils all working on this spool and a ton of plastic for spools that can't be reused very well can be saved.
The actual implementation is pretty thoughful – the coils come with three zip ties and are supposed to be "mounted" onto the spools before these zip ties are removed so that you don't lose the structural integrity of the coil.
By now there are a couple of different designs for the actual spool, with the original and Das Filament's version being the most popular, I guess.
For me, these designs had a couple of problems – They take a lot of material and take very long to print (and my printer is currently in a slightly instable state making these kind of prints kind of tricky). Also, the design is rather large and just barely would fit on my print bed which is currently a bit smaller than the nominal 220x220 due to BuildTak not being widely available in that format (what's up with that, btw.?)
Looking for alternatives, the first thing I tried was Das Filament's Little MasterSpool and it sorta kinda works, but the missing outer rim makes this kind of spool very prone to tangling up filament on the side of the spool and I lost a print to this when I left it unattended so that was not going to work for me.
The Creative Tools EcoRefill spool
Upon further research I stumbled across the EcoRefill spool by Creative Tools which uses a rather clever approach: You simply print the core of the spool (maximum diameter a little less than 11cm) and then use cardboard (the idea is that Creative Tools' refill spools come in a cardboard box that have a template printed on them so you can cut it out from there). I did struggle a bit with the print settings for the spool (I told you my printer is a bit unstable) but after I managed to get both halves printed (and repaired with a hot glue gun), I now could finally transfer the spool from the minimalistic skeleton to a proper spool with proper side walls. The two spool cores are held together by zip ties and the spool core does have slots where the original coil zip ties go.
To cut out the cardboard spool sides, I used compasses to draw two concentric circles (51mm and 100mm in radius) and then cut them out with a standard cutter, but scissors would also work. Alternatively, use your drawing program of choice and print a template. The inner diameter needs to be somewhat precise to properly (and somewhat tightly) fit on the spool cores, the outer diameter can be fit to your needs and your spool sizes. Just have enough overhang so that the sides guide the filament to keep it from tangling.
One suggestion I have, though: I know we all love zip ties and they work great, but you know what also works: twine. I have some jute twine (close to what I believe is called bakers twine or sausage twine) which can be bought in drugstores and even supermarkets which worked fine both for securing the coil during the transfer (mimicking the three zip ties) but also for binding the two cores together. This twine is definitely properly biodegradable and additionally, if you know how to tie the proper knots, reusable.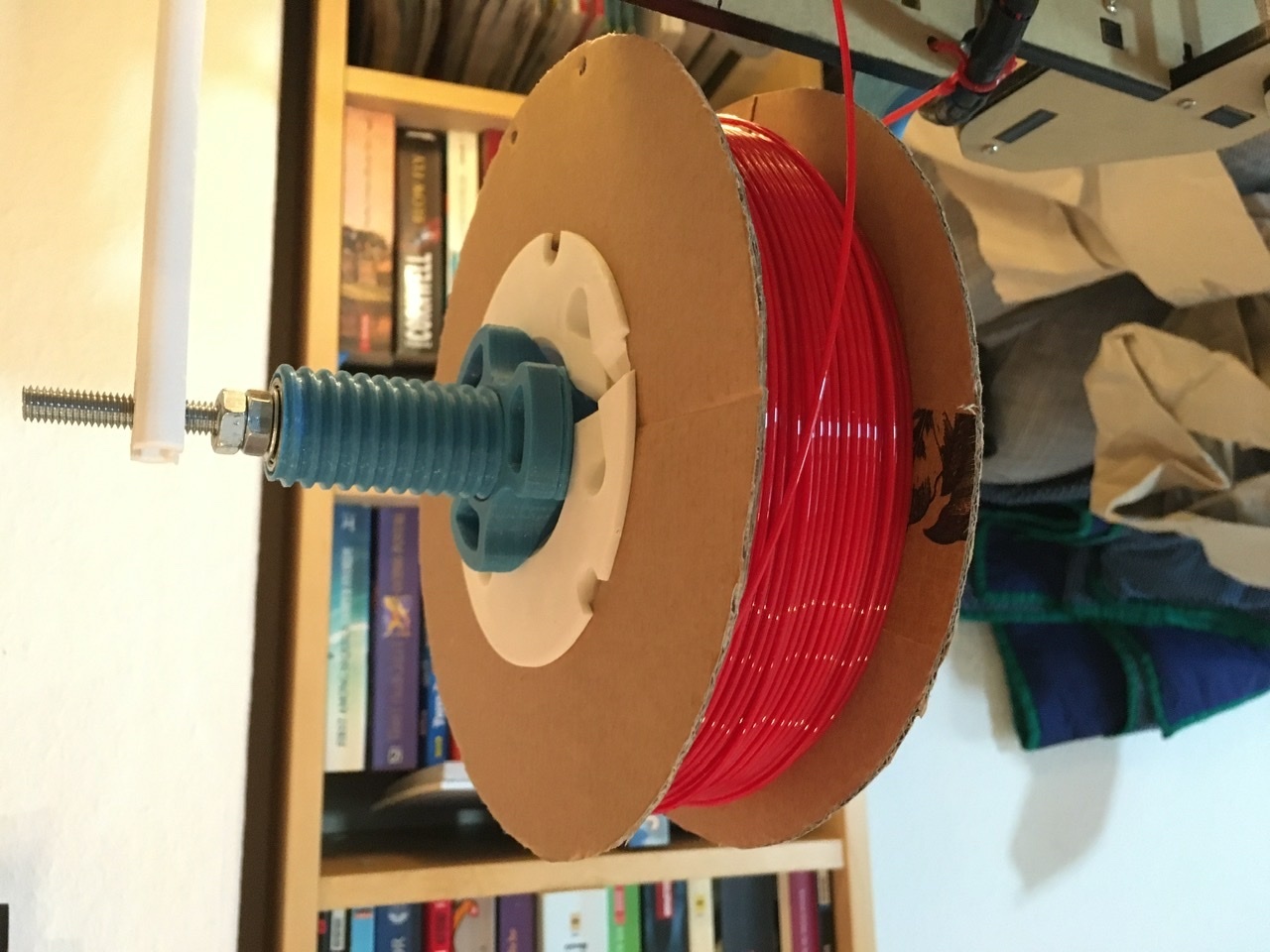 A note on available refills
While the refillable spool concept definitely is a great idea, the market doesn't seem to respond too well. You should be able to find manufactures that do refills in your region, but they are few and far between. I am very lucky that Das Filament seems to be still very committed to the idea and their prices with german shipping fees are quite good for both PLA and PETG (the two filaments they ship as refills). Other notable manufacturers are Fiberlogy from Poland which can be bought via 3djake (my 2nd go to place for filaments, as they have one of the largest selections) and before mentioned Creative Tools. For other regions, you may be able to find manufacturers and resellers on the filament directory.