Write.as Desktop App
The Write.as desktop application is a distraction-free editor for writing and publishing to Write.as. There's no sign up — just open the app, write something, and publish.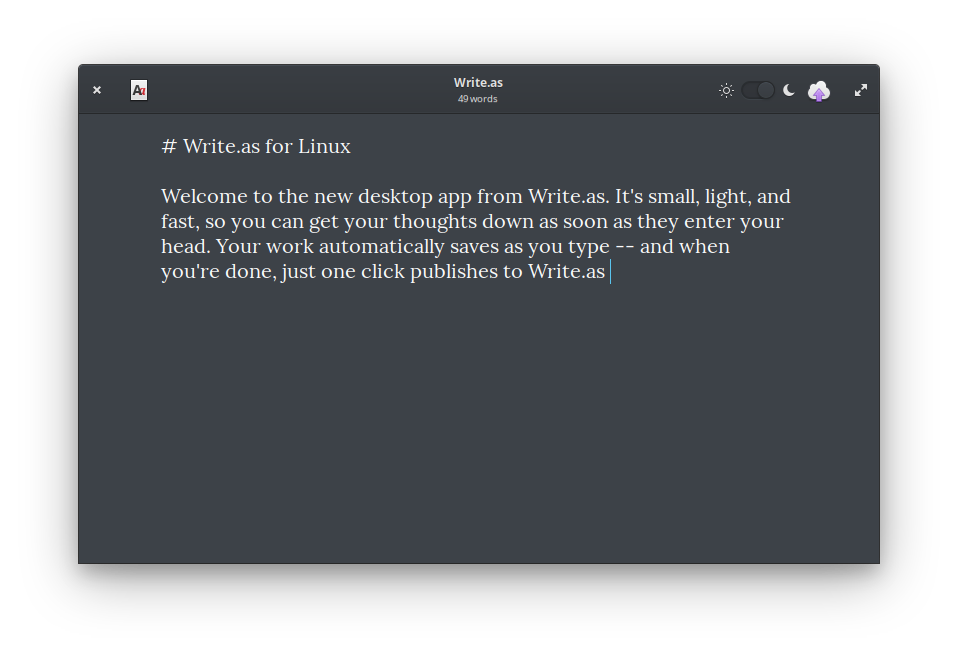 Simple, distraction-free editor built for your words
Instantly launches to a blank page or your last draft
Writing automatically saves as you type
Work on a single local draft, then publish or save as another file when you're finished
Choose from three different fonts: serif, sans-serif, or monospace
Publish to Write.as to share your post (example)
Manage published posts with the built-in command-line interface
Buy
Install it now for free, and pay whenever you're ready. A license for continued use costs $25, per user per platform. It includes all future updates.
Download
Install
Get the auto-updating version of Write.as on Debian-based Linux distributions, including Ubuntu:
sudo apt-key adv --keyserver keyserver.ubuntu.com --recv-keys DBE07445
sudo add-apt-repository "deb http://updates.writeas.org xenial main"
sudo apt-get update && sudo apt-get install writeas-gtk
# Install fonts
sudo apt-get install fonts-lora fonts-open-sans fonts-hack
On other distributions, you can install with the Meson/Ninja build system.
Want to see a package repository for you distribution? We'd love your help!