Berlin Wall: curious photos that makes you think
When people say "Berlin Wall" a single image come to our minds: a crowd of people divided by a wall under the watchful eyes of soldiers armed with rifles, the sadness reflected in people's faces, childs crying....
And isn't for less: during the 28 years Berlin Wall was standing from 1961 to 1989, millions of people get divided not only by a rock solid wall full of barbed wires and soldiers but for an insane solid politics ideas of a few. Entire families were turned apart...even children gets their parents lost...a shame....
Fig 1. Berlin position in a Germany divided by Allies
Fig 2. Berlin Allied Sectors.
For those who doesn't know what was the Berlin Wall(and i think almost every one knows it about) here are some facts about it:
1- Built from 1961 the original request made by East Germany to Soviet Union in order to build a wall dated from 1953.
2- Was standing for 28 years.
3- More than 100 people died trying to cross it. (At least 138 people were shot dead, suffered fatal accidents or committed suicide after failed escape attempts across the Berlin Wall.)
4- More than 5,000 escaped by going over and under the Berlin Wall.
5- Was nearly 12 feet high and approximately 27 miles long, with 302 guard towers and 55,000 anti-personnel explosive devices (landmines) and 3,000 attack dogs.
...finally(and for everyone's luck) on November 9th, 1989 it was announced in a radio broadcast that the border between East and West Germany would be opened for "private trips abroad". Thousands of people heard the broadcast and congregated at the checkpoints demanding to be let through. The border guards had been given no instructions regarding the opening of the border but faced with such huge numbers of people decided to let them pass. In the following days people began using chisels and pick axes to physically destroy the wall...that was the END!!!
There are no doubts this is a sad story with a predictable ending because as the old saying prays:
There is no harm that lasts 100 years... and no body that resists it.
Luckily for us by the time the wall was being built, photograph was a common thing, so we can count with thousands of photographs of that time. There are some photos sadder than others, or more representative of what was the experience lived by the Berliners with the wall, but the truth is this historial event leave us with very remarkable photographs with the subsequent story behind them....here you have most remarkable ones(...according to ME!!)
#1 Conrad Schumann defects to West Berlin, 1961
Conrad Schumann was immortalized in this photograph as he leapt across the barricade that would become the Berlin Wall. The photo was called "The Leap into Freedom". It became an iconic image of the Cold War. The image shown above belong to a 19-year-old(by that time) photographer Peter Leibing.
...and here we have Conrad Schumann 20 years after his escape standing before the iconic photo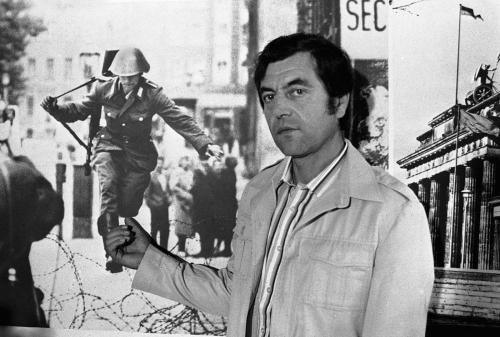 On 20 June 1998, aged 56, suffering from depression, he committed suicide, hanging himself in his orchard near the town of Kipfenberg in Upper Bavaria. "Once a deserter, always a deserter"...he said...another more victim of Berlin Wall.
#2 Four-year-old Michael Finder of East Germany is tossed by his father into a net held by firemen across the border in West Berlin, 1961
This "maddening" photo was taken from the booklet "A City Torn Apart: Building of the Berlin Wall". Here you can see four-year-old Michael Finder of East Germany been tossed by his father into a net held by residents and firemen across the border in West Berlin. The father, Willy Finder, then prepares to make the jump himself. Apparently, Communism gives people to do really crazy things...
#3 Residents of West Berlin show children to their grandparents who reside on the Eastern side, 1961
The Wall not only divided buildings, streets, subway lines, bus lines, tramlines, canals and rivers but families too. Here you can see a photo where a couple of parents are showing children to their grandparents who resided in the Eastern side. They were only allowed to visit each other during the Christmas season by 1963 (Passierscheinregelung). Similar very limited arrangements were made in 1964, 1965 and 1966...meanwhile...this was the kind of "visit" they have.
#4 The standoff at Checkpoint Charlie: Soviet tanks facing American tanks, 1961
In October 1961, border disputes led to a standoff and for 16 hours the world was at the brink of war while Soviet and American tanks faced each other just 300 feet (100 meters) apart. This is an iconic photo wich appears in many diaries by that time. An interesting fact is that the sign on the right only has German as the fourth language down the list, and in a smaller font than the others. Until the erection of the Berlin Wall, the differences between the sectors of Berlin didn't matter much to German citizens. In the early years of the Cold War, they could travel freely throughout the city. For this reason, the information about the sector borders was printed in the languages of the occupying armies, and not the residents.
#5 East German soldier helps a little boy sneak across the Berlin Wall, 1961
This is a photograph of an East German soldier helping a little boy cross the newly erected Berlin Wall the day it was built. In the very beggining of the Wall many people was left behind in the chaos of people fleeing and families caught on different sides of the border.
About the boy we can say that according to Checkpoint Charlie Museum in Berlin, one of the boy's parents, his father, was with the boy in West Germany visiting relatives while the rest of the boy's family was at home in the East. The prohibition against crossing sectors did occur overnight thus separating this family. The father believed that the boy should grow up with his mother, so he had the boy walk to the fence where this soldier lifted him across.
About the soldier just must say it was reported that the soldier was caught doing this benevolent deed by his superior officer, who removed the soldier from his unit and whoever took this photo left a description saying: "...no one knows what became of him".
BONUS...
The Wall was a place visited many times by many foreign personalities and here we a couple of them...
#6 Dr. Martin Luther King visiting the Wall
The visit came about after West Berlin's Mayor Willy Brandt invited King to participate in a memorial ceremony for President John F. Kennedy, who had been assassinated the year prior, less than six months after his own famous visit there. King also received an invitation to speak in East Berlin from Heinrich Grüber, who had been a pastor at a church there and a prisoner in a concentration camp for three years during World War II for openly criticizing the Nazi Party...he accepted both invitations.
#7 President John F. Kennedy visiting the Wall
In the summer of 1963, President Kennedy visited Berlin and was greeted by ecstatic crowds who showered his entourage with flowers, rice, and torn paper. In the Rudolph Wilde Platz, Kennedy gave one of his most memorable speeches to a rapt audience from wich is remembered the phrase: "Ich bin ein Berliner" ("I am a Berliner"). It is widely regarded as the best-known speech of the Cold War and the most famous anti-communist speech ever made.
No other American politician had met with such joy and enthusiasm on a visit to Germany. Shortly after President Kennedy's death in November of 1963, the square where he had made his famous speech was renamed the John F. Kennedy Platz.
Final thoughts
The Berlin Wall has been taken, for many years, as a symbol of hate, separation, sadness and political intransigence dividing not only a city but a country, families and friends. Since its collapse, German development has been superior in every way, showing the world that unity is strength and that everything that is built by force ... will end by force no matter how many years or lives it takes.
Do not forget to follow me at https://coil.com/u/deyner1984 and get a Coil subscription to support good and amazing content exclusively for you!!!