Contentos – Reinvent the Content Value Ecosystem
Next week, on December 10th Contentos $COS is landing on Bitrue and tonight there is going to be an AMA hosted by the XRPZOO with Bitrue's CEO Curis Wang and Contentos' CEO Mick Tsai.
Events are planned, ........ but what is Contentos, as probably not everybody is probably aware of this coin that sits on place 317 at the moment; with a Marketcap of $8,295,544 USD. COS is officially only listed on Binance DEX. Crypto trading pairs include COS/BNB, COS/BTCB, and COS/USDSB.
Contentos has a circulating supply of 674,240,346 and a supply of
10 Billion in total. hmmmmm CMC, not really up to date are we
not .... Circulating supply is a little over 1 Billion, so let's update this... maybe reach out to the different projects from time to time, to get the numbers correct ! ! !
Just FYI CMC, this is the Token Release Plan, please update your numbers ! ! !
and in Numbers:
So who is or what is Contentos ?!?!?!?!?
The Contentos Charts above taken from Marketcap shows the route Contentos has taken between 2019, June 21 and the beginning of December 2019. Since September the Price has been pretty steady, of course little dips and rises, but overall a pretty steady line....
A couple weeks ago I wrote about Beatzcoin and starting to write about Contentos, I had to think about Beatzcoin. Where Beatzcoin specializes in Music, Contentos also looks at content creators and facing their hurdles. You can find two great graphics on the homepage: https://www.contentos.io
The Rewards / Income/ Revenue that content creators should receive is lowered (tremendously) by the platform that displays their content. It is a choice to use that 'specific platform' but some cuts, that in some instances are well over 40% are easily earned by these platforms. Besides these diminished Revenues, the traffic is controlled, there is a lack of copyright protection and credit systems are centralized ........ centralized ...... centralized .... scary word .... (if you are an XRP-Holder)....
Contentos has the solutions for these issues and are shown in the following 4 pictures:
In other words, Contentos is and has been building a decentralized community that allows content to be freely:
01 produced
02 distributed
03 rewarded
04 traded
while protecting author rights ! ! !
Sounds legit, especially while I am writing this blog as a content creator on a Coil page ......
To repeat what Mick Tsai shared during an AMA, 2 months ago, Mick shared that Contentos is a decentralized global content ecosystem. Contentos is supported by various content-related services including Live.me (live streaming), Cheez (short video), PhotoGrid (image) and COS.TV with over 60M overseas MAU combined. Contentos has attracted global investors in blockchain, internet, and venture capital community in its early-sales rounds including Binance Lab, DHVC and IDG.
Compared to any other similar content blockchain, Contentos has real content products that supports photo, live streaming and video, millions of content creators and a large number of potential users worldwide, these three unique advantages provide Contentos with the chance to stand out among any similar projects.
Contentos' Mainnet was lauched at the end of September, 25 to be precise, and COS.TV, a Dapp built on Contentos is now fully integrated to the mainnet, the system has over 2K daily on-chain users and 30K daily TX.... so ...... promising ! ! !
Talking about Dapps, Contentos has 4:
PhotoGrid
COS2048
WalkCoin
COS.TV
PhotoGrid is a popular photo editing App with a community similar to that of Instagram.
COS2048 is an Android game App derived from the original 2048 game. Users are able to earn COS through single-player games and use them as bet in double-player games.
WalkCoin is an Android App that keeps track of users' walking record.
COS.TV shares project information and serves as a blockchain explorer. The platform is also a wallet for COS holders.
So I ran into Patrick, he has a special relationship with Contentos; he is admin for Contentos on Telegram and is very knowledgeable; not only when talking about Contentos. I was very surprised about the whole Contentos Community .... On Telegram the Global Community Group is shy from passing 3.000 members ... amazing. Well, I had a little conversation with Patrick:
Patrick can you say something about yourself and what Contentos means to you, how did you get involved?
Personally, I'm very associated with content creation and it is not only in my life but embedded to everyone's personal life. Content is everywhere and owned by everyone and nobody, this should be managed in a decentralized manner. While managing the Ontology overseas community and after Ontology 's investment arm (OGC) invested technical and monetary support to Contentos, I started to get involved with contentos.io, that has offices in Taipei & Beijing.
What does Contentos mean to you?
Contentos for me means, content blockchain solutions.
What did / does 2019 mean to you regarding Contentos?
During 2019 Contentos has made many world wide live appearances. This gave us a strong feeling and understanding of their philosophy.
What is 2020 going to bring?
2020 Technical Roadmap
Q1 Publish Techincal Whitepaper 2.0, tackling scaling solutions
Q2 Complete Mainnet 2.0 Blockchain development
Q3 Complete Mainnet 2.0 Cross-chain (Main & Sub) communication development
Q4 Preparation for Migration from Mainnet 1.0 to Mainnet 2.0
2021 Mainnet 2.0 Launch
Do you know Coil, BeatzCoin? Are those competitors or ...?!?!?
NOPE
I say: ———–) L . . . . . O . . . . . L . . . . .
Finishing up this blog, I had another great experience to learn more regarding Contentos.
Moving along, after this great opportunity I ran into, I came across the name Jeff, who was introduced to me by multiple Contentos Community members. I also ran some questions by Jeff:
Hi Jeff, I hope you are doing fine. As I shared with you I am writing a Blog regarding Contentos.
XRPTwin:
Without taking away all the fire from the upcoming AMA, could you please tell me something about the Contentos Project. Please tell me a little about yourself and your role within the Contentos Project?
Jeff, Contentos:
I am the Operation Manager of Contentos, ensuring smooth daily COS-related operations and also, responsible for our social media marketing.
XRPTwin:
How old is the project, what is the idea behind it and where is it going?
Jeff, Contentos:
Founded mid 2018, Contentos project is 1.5 years old and to date,our decentralized content ecosystem consist of our own Mainnet, our first DApp – COS.TV and our strategic partnering Apps (PhotoGrid, LiveMe and Cheez).
As I quote from Mick, our Co-Founder & CEO, in his recent medium article "We believe blockchain or distributed ledger technology (DLT) has the best chance to facilitate a healthier content ecosystem. While centralized platforms may have already established their businesses, their inherent centralization is a pitfall that blockchain systems veer away from. Blockchain, with its decentralization and transparency, is better geared at dealing with multi-stakeholder industries such as content platforms who deal with creators, audiences, and advertisers."
For the full article Jeff is referring to:
https://medium.com/contentos-io/why-we-started-contentos-6abe32c15d3f
As for where we are going next, we are constantly improving our decentralized ecosystem.
Currently we are focused on improving COS.TV on 2 major aspects:
1. Functions for daily consumers: By improving the overall product and adding functions such as Gifting Votes, Voting for Block Producers so that COS.TV users can engage with the platform more efficiently and effectively
and
2. On-boarding more content and creators to COS.TV as we localize the product to different parts of the world. BTW, to date, we are already covering 8 languages for COS.TV.
By improving COS.TV, we are also improving Contentos blockchain concurrently as we ensure that Contentos blockchain is able to function under our intense growth rate and constantly upgrade and build tools so that our blockchain can handle more.
In 2019, we have integrated Contentos blockchain into existing Apps such as PhotoGrid, which has over 40 million global active users, and conducted campaigns to educate users on blockchain technology. We definitely look forward to assisting others who are interested to adopt blockchain technology into their product out as well in the near future.
XRPTwin:
Contentos is still a rather young project, can you please share with me what some great accomplishments have been so far and what we can expect?
Jeff, Contentos:
A week after our Mainnet launch in September, we achieved 10k+ accounts, 1.3k+ daily active users and 28k+ daily transactions. And in 2+ months, we have achieved 200K+ accounts, 9k+ active users and 40k+ daily transactions.
For COS.TV
COS.TV is now ranked top-30000 websites worldwide, according to Alexa.
The first "10K Follower" content creator on COS.TV was just crowned
With the promotion from PhotoGrid and COS.TV, Contentos drew lots of attention in Brazil. Local crypto KOLs started to produce content and build their community on COS.TV.
XRPTwin:
Are you familiar with Beatzcoin and Coil. Can you share with me if they are competitors or going for a different industry?
Jeff, Contentos:
Fundamentally, Contentos, Coil and Beatzcoin are all tackling issues in today's content industry. However, we are approaching these issues using different methodologies.
Beatzcoin is a TRC20 token, used on the VibraVid social streaming platform, used to pay for video and audio content, marketing and advertising by users, creators and advertisers.
On the other hand, Coil is a platform that utilizes Web Monetization – an open API built on the Interledger Protocol, for creators to monetize their content online, by receiving micro-payments instantaneously as subscribing consumers consume the contents.
Contentos is a decentralized content ecosystem which allows content to be freely produced, distributed, rewarded, and traded, while protecting author rights. Contentos has its own blockchain with built-in ecological reward model and native token to facilitate the transfer of value between creators and consumers across applications (e.g. COS.TV, PhotoGrid etc.)
Given that we are all in the same space using different methodologies, chances are that a collaboration with either companies will make more sense for us to tackle the issues in today's content industry as compared to seeing us as competitors.
If you would have some pictures of the headquarters and / or the office can you please share these in order to use in the blog
Is there anything readers of this blog should know?
Jeff, Contentos:
COS is listing on Bitrue on 10 Dec 2019 (Link) and we are looking forward to more interaction with XRP community.
Also, come experience COS.TV! We just launched a new feature—Gifting Vote! With Gifting Vote, we hope to align content creators and consumers, to better distribute higher quality of content.
XRPTwin:
Just a finishing question:
I have read up and came across some projects, partners .... Can you comment on the following:
TomoChain . . .
KardiaChain . . .
MIXMARVEL . . .
Harmony . . .
Somesing . . .
Jeff, Contentos:
TomoChain: One of our initial ecosystem partners, the leading project in Vietnam! Together we have co-organized a few offline meetups and they have a channel on COS.TV.
KardiaChain: Another partner of Contentos who is based in Vietnam, similar to Tomochain, we have co-organized a few offline meetups and they have a channel on COS.TV as well.
MIXMARVEL: Their DApp game, HyperSnakes, is the first DApp to be promoted on cos.tv! MixMarvel remains as one of the leading pioneers in Game DApp industry.
Harmony: When talk about open consensus, Harmony is definitely the name to pop up. We have collaborated with them to promote their first on-chain game – Harmony Puzzle.
Somesing: Our first Korea ecosystem partner! Built a fantastic Karaoke DApp which we had recently collaborated with when organizing our "COS we love Sing" Campaign in Korea.
Jeff, thank you for answering all these questions. Indeed Contentos is a project that is going further than a listing on Bitrue... Good luck on the projects coming up and I will definitely follow this closely, thank you.
So Staking Contentos on Bitrue starts December 13, looking much forward to this after learning so much about the project.
Later today there is going to be the AMA with Curis and Mick, conducted by the XRPZoo – with @1000bonesXRP, @KickboyTriple and @FakeCoinExpert. Going to be a lot of fun and I will DEFINITELY watch it ! ! ! !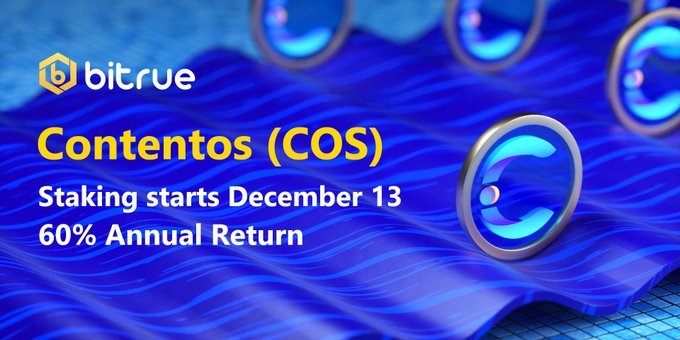 Previous Interview: ALL Flavors Together