Crypto Lady: Lisa N. Edwards
There are so many different roads that lead to Blockchain, that lead to what you do with the industry and where you are heading. Well, this lady took a different route and let me tell you, a very interesting one ! ! !
She was the first lady to respond to what if I do an all women interview week .... well, this is the second week n and she deserves the main stage. Was very prompt about answering and have spoken with her off and on about many different things. Lovely lady ! ! !
So, who is lovely, who is lady, who is the lovely lady: Lisa N. Edwards; a very diverse person, has done many things already ! ! !
Checking out her Twitter Profile:
Well, the hearts next to her name, happy ..... Butterfly Chaser, can't help it, I am smiling ..... author, screenwriter, trading view, punctuation, eh ..... I mean EXCESSIVE PUNCTUATION ! ! ! Even an IMDB URL , I am so drawn to this profile ... Oh her header says she is AWESOME, so let's find out IF, she really is AWESOME. If you believe she is awesome, write it in the tweet:
XRPTwin:
Could you introduce yourself in a couple sentences
Lisa:
Hi I'm Lisa N Edwards, Dreamer, Believer, Over achiever, and someone that never gives up.... Work wise, actor, screen writer, author and trading analyst
Doesn't this picture make you happy :–)
OKAY OKAY, I did run across Lisas age. I won't share but
OH MY LADY, I MEAN WOW ! ! !
XRPTwin:
I have read you like fast cars can you elaborate a little on that?
Lisa:
I worked with V8 Supercars while I owned my Modelling and Acting agency which allowed me to fuel my thirst for fast cars, I have owned 3 HSVs and am on the HSV (Holden Special Vehicle) wall of fame. While you don't get to drive them fast on normal roads, I have taken them onto racing tracks (Sandown, Winton and Bathurst in Australia) to get that adrenalin fix.
There is nothing like that feeling
XRPTwin:
Continuing on question number 2, can you share a little about your V8 Supercars experience in Australia?
Lisa:
I should pre-empt your questions before answering. I worked with Tony DÁlberto through my agency helping to raise his profile (as that is what my management company did) and during that time travelled around with the V8Supercar circuit, it was an amazing 18months. So many cool memories and I got to know a lot of the drivers, and attend many of the events. It was actually like joining the circus, as they pack up move get to the next location and unpack, race, repeat.
Source Tony DÁlberto
XRPTwin:
While we are still at this topic, what is your favourite car?
Lisa:
This is a hard question as I have a few for different reasons. Australian – W427 fastest naturally legal street car. Sports cars, Ferrari (Type F149) California it is the ultimate Barbie car haha, or for speed and precision Porsche 911 GT3 RS – 383KW-520HP need I say more...
Well, decide for yourself, the Ferrari California: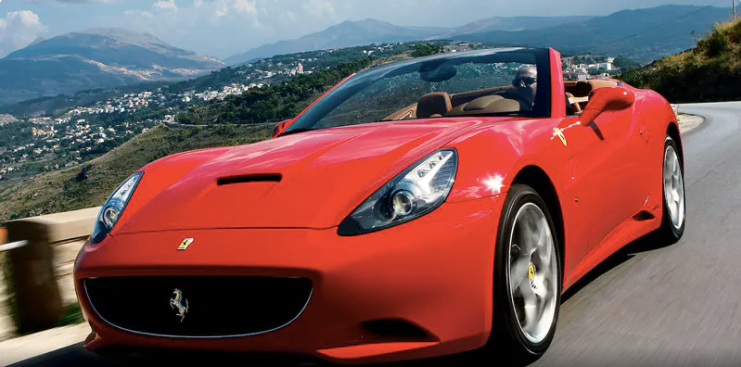 XRPTwin:
Well, let's talk a little more crypto, how did you get introduced?
Lisa:
My brother introduced me to cryptocurrency, very early at almost the beginning, I thought he was crazy at the time, and didn't do anything with it until maybe 2012-ish.
XRPTwin:
Hmmm, 2012, let's dive a little into that year:
Too bad, 2012 does not show in this overview. But there is also a little bit of text accompanying the history: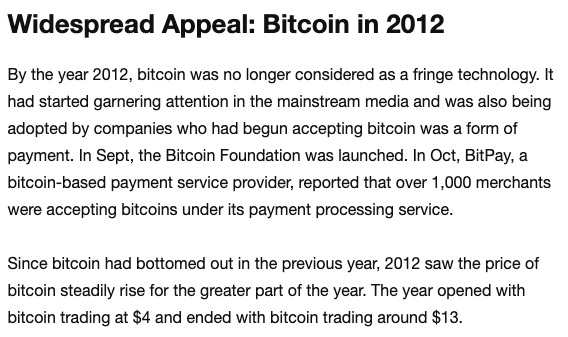 Well, that is definitely interesting ! ! !
XRPTwin:
This probably settled your love for Bitcoin .... hence taking a side step: project CoinRunners, you wrote in February that you were going to focus on this project. What is this project all about?
Lisa:
Cryptocurrency trading is addictive once you start, sometimes it is love/hate due to the volatility. Most of the time I Love it. I am super excited about CoinRunners, it is a cryptocurrency/toxic relationship film I have written and in the process of editing and small rewrites to get it ready to be made. Covid times has actually helped with this, as I have been able to stop and focus, and now am on version 36 of the script. It has come a long way, it is an epic story of a Crypto Business
CoinRunners and a romantic relationship between the business partners that follow the waves of Bitcoin. It also has a positive message about the strength we all have within to move forward into the future we want to create. It is Wolf of Wall Street, meets Molly's Game. So should be epic... well I am the writer so believe it will and have had such amazing help from some really big name Hollywood Producers in getting the script to where it is today. Excited to share more in the near future.
I am really looking forward to this and if Crypto prices go a little higher, Lisa promised me to go to a premiere somewhere in the world, when Covid-19 is done of course, and walk her on the red carpet ....
I see the stars, I see the red carpet .... Lisa promising something eh ..... maybe that was made up .......
XRPTwin:
Besides Bitcoin, do you have different blockchain projects you are interested in .... ehm, maybe XRP? ? ?
Lisa:
As a trader, I am interested in anything that moves and makes money. I love researching new projects entering the market and taking an educated gamble on these. Recently DOT and many DeFi projects.
I feel XRP is not going anywhere and in the bull run coming up will do very well as it again is an easy in for a new investor entering the market.
XRPTwin:
You have been starring in a lot of commercials, can you share a funny story with us that happened in one of the shootings ?
Lisa:
I don't think anything weird or funny has happened while shooting. One of the Coles Tv commercials I did, was turned into a horror clip, which at the time was very weird and had to stop my daughter from seeing it as she starred in it with me. Something many won't know is that I am Kath from Kath & Kim's (Australian TV series) I was her nude double haha, so my bum is on tv.
XRPTwin:
But XRPTwin found something else ! ! !
Not sure if I caught the correct scene, but this is a picture from the IKEA scene:
XRPTwin:
It looks like you are having fun with charting, many tweet regarding moving averages (MA); when did the love of charting start?
Lisa:
I have been charting for nearly 30years.. (since I was 2) hehe, but sharing on twitter I think for 2 or 3 years. I started sharing and helping people there as the BTC high was reached and many thought BTC would rise forever, so I can in to share and try to help others learn some of the tricks I already knew. It was a wild market back then, worse than now, the market has somewhat settled and grown-up in a way.
XRPTwin
Well there you have it, did not have to hide it, Lisa gave us her age herself: 32 ! ! !
XRPTwin:
What is 2020 to you .... has it slowed your projects or did it give you more time?
Lisa:
I am actually busier than ever, while it slowed the progress of my film, in a way it has been a blessing in disguise as I have taken the time to explore and develop the film script to where it is today. I did at the start think 2020 would be a vastly different year for me, and coming up to September I am starting to feel the cabin fever, as the previous 2 years were spent travelling all over the world for conferences and courses I was teaching.
XRPTwin:
What does the remainder of 2020 hold, are we going to see a big BULL?
Lisa:
I think the bull market is here and about to explode, it is going to be bigger than 2017, and more brutal along the way as regulations slowly creep in the following year, this is the last stand of the wild west.
XRPTwin
Ferdi the Bull, maybe a little bit TOO sweat, but it does stand for rise ! ! !
XRPTwin:
Who is (going to be) the big winner this year
Lisa:
DeFi is already the biggest winner, YFI as of writing this hit 38K and 3.5x BTC. If you are not a trader, I wholly recommend DCA – Dollar cost averaging your buys as you can afford or setting aside an amount each time you are paid. I feel this is the best way to win in this market for the inexperienced people entering.
XRPTwin:
Who is (going to be) the big loser
Lisa:
New traders that over leverage/margin on exchanges, they are going to feel the pain of this crazy volatility
XRPTwin:
What question should I not ask you?
Lisa:
That one haha. My kids could tell you, not to ever ask me what's for dinner Mum... it used to be my pet hate if I was in the middle of something.
Wow, this was a lot of fun. Now tell me, is this lady awesome or NOT awesome.... I had soooo much fun interviewing her and I am so happy to start this weekend with Lisa. Thank you lady for this interview you have been amazing answering. Good luck with your movie and eh ..... see you on the red carpet ;–)
If you are a Coil subscriber, the interview is NOT over yet ! ! ! So if you would like to see more questions, you may want to check the following link
STAY SAFE ! ! !
Continue reading with a Coil membership.