Hi everyone!
Welcome to the monthly stats and project report for the gFam platform.
This month was all about building our backend so that we can get ready to explode... but before we get into that... here are previous monthly stats if you're interested in the past...
We want to include everything that's happening in the gFam world to stay as transparent as possible. If you have any questions, please contact us on *Twitter*.
We've spent a lot of time building this month... and we're building things that won't be exciting to anyone... but me.
I'm a person though, I need fun things too... it can't be all about you can it?
[[Source]](https://media.giphy.com/media/Xf2TbsaXNZKyxQfthl/giphy.gif)
Platform Stats
Stats from 1st June 2020 to 1st May 2021:
Users : 326 (+13)
Post count: 6,275 (+937)
Tip count: 7,087 (+678)
Total XRP tipped: 34,951.91 (+1580.09) ~ $55,573.53 USD
This doesn't include all the micropayments flowing through gFam from Coil subscribers to Coil creators... Brandon Wilson of Coil told us about Web Monetization Receipt Verifier, so that's still on the roadmap.
Project Update
Everything we've been doing this month has been to help us scale. If we learned anything last month it's that our platform isn't quite ready for the bigtime.
So we're building a few things so that I don't become a bottleneck when it comes to helping our users.
First thing... users can now reset their own passwords. Up until recently people would have to contact us on Twitter and we'd have to go into the database to reset someone's password. It's hardly ideal from both a matter of reacting quickly and a security point of view. Now you don't need us at all...
If you click on any of the Sign In buttons, you'll see a Forgot Your Password hyperlink.
Now all you'll need to do is type in the email that is registered to your gFam account, and click on Reset Password and you'll get the new temporary password straight to you in a jiffy. Who even needs admin dudes?
We also released a leaderboard because we know that people love stats. You can now see how many post views people are collectively getting, how many comments people are making, who is tipping and who is receiving tips.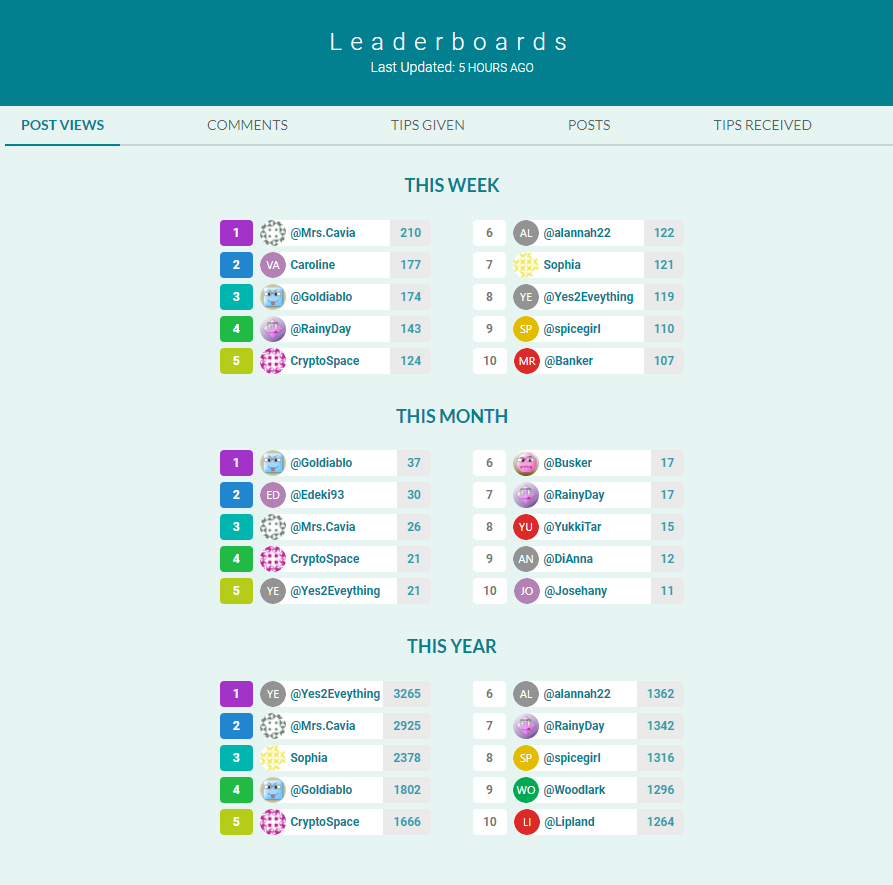 The next thing we've been working on is an Admin Dashboard so that I can help everyone out. There are stats and the ability to drill down on users and posts to see what's going on behind the scenes. We're also working to be able to properly verify users so that content consumers can be confident that they're tipping the person they think they're tipping.
Still a lot to do in this area... but it'll lead to a much better platform overall.
You can totally see our analytics anytime by clicking on the Analytics hyperlink at the bottom of the main page panel (Home in the menu).
So, as XRP has risen in price, we've definitely seen an increase in activity which is all sorts of awesome.
In March we had 1.9k unique visitors and 8.4K site views... and while we had less unique visitors, or core group of users spent more time on the site...
April 13th is when we released the leaderboards, so you can see people got pretty excited clicking on all the things...
In April we earned 1 XRP... our March total was 277 XRP and was worth $157.87 USD, so, ah, obviously the XRP price rise is doing good things for us...
We still have our first Coil affiliate, which we also had last month, but we still haven't seen what we've earnt from that yet... we assume we'll find out when we're billed for May.
If you're interested in taking on a Coil subscription to help reward creators, please look into gFam's affiliate referral link.
Our most popular post was this one from self-proclaimed AstroLamb Sophia who often posts super popular posts...
It received 148 views, 2 comments and a tip for 5 XRP.
Here are our traffic sources... we still have no idea who is Googling us or why or if they're finding what they're looking for.
Happy to see a bit of traffic from Twitter and Instagram... at least we know what's going on there.
Here are the countries are global family mostly reside in...
Our Twitter account had 491 tweets and 529 followers at the end of March, and slowly but surely we're growing... mostly thanks to Stefan being an absolute legend and getting the word out about us and the amazing MG.Social.
In March we had 117 posts and 320 followers on our Instagram page and so in April it looks like we grew by one follower per post. Seems fair.
Pinterest, is a bit of a fail for us... we are not doing a good job at all...
We're finding that talking to individual creators and friends of gFam users has been our best method for growth so far... gFam is full of brand new concepts, and so we have to go a long way into building trust... and that's just not something Pinterest is very good at.
If you know of any creators who love creating... please let us know.
Please contact us on Twitter with any comments or questions!
Thanks for reading!