Seventh month for gFam
Hi everyone,
Welcome to 2021!
2020 was definitely a bizarre year, but we'll always remember it as our first year of becoming a platform and trying to create a more fair internet for both creators and consumers of content.
Welcome to our stats and analytics for the gFam platform. We've been tracking and sharing our analytics from the very first moment and so here are previous months:
We want to include everything that's happening in the gFam world to stay as transparent as possible. If you have any questions, please contact us on Twitter.
Project Update
We're working towards a February 1st 2021 launch date for some new gFam features, and so while we've been building and testing those, we've also done a ton of work on our marketing.
To be honest, we always thought marketing was really just advertising, but we've learnt in the last month that it's so much more than that.
gFam is a platform for creators and consumers... which honestly can mean every single person on the planet. Obviously we can't spend our time and money advertising to everyone, so we have to be way more strategic on who we market gFam to... and how we go about that.
We've interviewed 12 creators that have struggled to monetize their content to find out what the pain points are, and what real problems that have that could be solved by the gFam platform.
We've worked out our messaging, and the types of people we'll be targeting and how we can best communicate with them.
We've found that creators are somewhat incredulous that consumers would tip them for their content, or subscribe to a service like Coil to passively reward them via micropayments.
The whole Web Monetization gang has a lot of work to do to shift internet culture from consuming for "free".
Progress on Objectives
We're progressing well on setting up User Profiles so we can see all of a user's posts as well as their statistics, bio and social media handles. We're aiming to have this functionality available on the 1st of February 2021.
We do have a massive concern, and that's the US cryptocurrency exchanges delisting or suspending trading on XRP as a result of the SEC lawsuit against Ripple. We can still operate while Uphold continues to work with XRP, but with Coinbase, Bittrex, Crypto.com, Binance and others all pulling out, that seriously limits the use of gFam. If our creators can't exchange the XRP they've earnt to their local currency, then gFam isn't useful to them.
gFam is a global family... but you'll see in our analytics that most of our users are in the US.
We're honestly not sure what this all means for gFam or what our next steps are, but we'll obviously keep everyone informed.
Communications and Marketing
We're hoping to build our marketing strategy and social media templates in the second week of January. We've started working with a couple of micro-influencers to test the waters and we've been pretty pleased with the results so far.
What's next?
Next we'll be working on the visual aspects of the gFam platform. People unfamiliar with blockchain really are concerned that crypto is a scam and gFam seems way too good to be true, so we're going to try and rework our home page to help answer some of those questions upfront.
What community support would benefit gFam?
Honestly, we'd love to hear everyone's thoughts and ideas on what we should do, or if we should do anything differently at all in regards to the SEC lawsuit against Ripple. We are international, are we're still able to operate, but these are indeed tricky waters to navigate.
gFam Analytics
As we mentioned last month, anyone can see our analytics by following this link... which is also available as the last link at the bottom of the right-hand panel on the main page.
[[Source]](https://gfam.live/)
In November we had 918 unique site visits and 2.8k site views.
In December we had a touch less than that...
One thing that was interesting though was that on the 28th of December our friend Leah included a little Instagram story about us...
[[Source]](https://app.usefathom.com/#/?from=2020-12-01%2001%3A00%3A00&range=custom&site=31915&to=2020-12-31%2023%3A59%3A00)
... it was super short, just a photo of herself and the words 'Check out gFam.live' and we honestly had lots of people check us out with a couple of users creating accounts and have posted a couple of times.
We asked Leah about it, and interestingly she said that her normal Instagram posts get about 600 views, but her Instagram Stories get around 2000. That was wild, who would have guessed that temporary content was so much more popular?
At the end of our 6th month, we had earned 247 XRP in microtransactions and 8 XRP in November valued at $150 USD...
[[Source]](https://media.giphy.com/media/wtil0pQFBbNwA/giphy.gif)
In December we earned 3 XRP through microtransactions and our XRP earned to date obviously dropped significantly in value...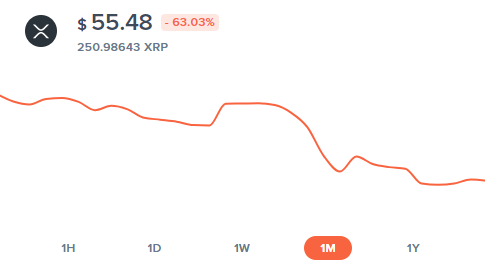 [[Source]](https://wallet.uphold.com/dashboard)
Most popular post was from Cintia with this snowy gold...
Veggiesima received 24 views, 5 XRP with just a single jealous comment...
The 2nd most viewed post was this little snap of adorableness from Crystal with 17 views.
Traffic sources are always interesting to us...
We suspect the coil.com entry is more people logging into gFam with their Coil credentials.
We also suspect that the increase in views from Google is because we've made it to spot 3 for a "gfam" search...
... it was only a month or two ago we were on the 2nd page... so we're hoping we can start to make moves to the top of the list, but obviously Urban Dictionary is going to be a tough one to beat.
We're happy to see some traffic come from Twitter, Instagram, YouTube and Medium, and for that we need to thank Andrew Levine for his efforts to spread the word...
https://medium.com/koinosnetwork/an-interview-with-the-founder-of-gfam-whos-rewarding-content-creators-with-crypto-f8138226f486
Phones are still the global family's device of choice with the Chrome browser absolutely crushing it.
During December the United Kingdom has fallen away completely and been replaced by Serbia. As we mentioned earlier, the US still totally dominates the traffic to gFam.
Our Twitter account had 369 tweets and 452 followers at the end of November... and now at the end of December we have.... less.
We're not taking that too personally though, XRP isn't the most popular cryptocurrency at the moment.
In the last month we created 10 Instagram posts and gained 7 followers. We're hoping to accelerate this a bit in January.
We also noticed that our Instagram username is technically against Instagram policy. Has anyone had issues with this in the past?
We've continued to be terrible with our Pinterest account...
It was only 2 months ago we had 5.4 monthly viewers, so we've dropped pretty significantly. You really have to post to the platform every day to get any real traction.
We hope this post was of some interest to you... we've got a lot to be excited about! Please contact us on Twitter with any comments or questions!
Click on the below tweet to reply directly if that's easier...
Thanks for reading!