Weeknote 2021-05
Weeknotes are back! Happy (belated) New Year all.
So, I originally started writing weeknotes about this time last year when I started my new role with the London Developer Advocacy team at IBM. The plan was to use the weekly train trip to London to write down my thoughts of the week. What went well, what didn't, how I felt, etc. Of course Covid put pay to the train journeys but still I managed to write, even if it was on average every other week.
Ripple
Of course the big news is that I am now Director of Developer Relations at Ripple. I've just finished my first week, and so far it has been amazing. I had built the company up quite a bit in my mind, then just before starting had a sudden panic that it might not live up to my expectations. I'd even started to question if Ripple even had a London office. I was looking around on LinkedIn and couldn't find anyone! But rest assured they do, they have about 60 staff in London. Their office is currently closed due to Covid, but is an entire two floors of a tower just behind the Bank of England. It has 360 degree views of the city... so will be pretty amazing when we get this virus under control and start to re-open offices.
[My calendar, showing meetings mainly in the evening]
It has been a very busy first week, my calendar is above. I've redacted most of the meetings for obvious reasons, but over half of them were 1-to-1 introduction meetings with other people at Ripple. This has been a great opportunity for me to get to know what everyone is up to, and what their role is at Ripple. Also a chance for me to talk about some of my ideas about Developer Relations.
One thing you will notice is that most of my meetings were in the evening my time. Most of RippleX is San Francisco based, or at least US-based. So, I've skewed my working day to later in the day for now. This has worked out pretty well, as it is still pretty gloomy weather here in the UK and getting dark pretty early still. I can go out and take the dogs for a nice long walk in the morning and get errands and jobs done around the house and spend time with my family, then work in the evening.
The IT onboarding experience has been amazingly smooth. Given all the onboarding is now remote. Full credit to the Ripple IT team, they have it organised well. A Macbook Pro turned up for me, and a day later I was sent temporary login details. I logged in, and pretty much everything was setup ready to go. All the onboarding events (HR run through, security, IT, etc) all in my calendar already.
I've had lots of discussions this week about developer relations, and it has been great to see already a lot of work has been started on looking at the developer experience and surveying the existing developers out there. I've started to articulate some of the ideas I have, which have been very well received. So stay tuned as I'm hoping we can get some of them started very soon.
Two particular areas this week I've had some discussions around are UBRI, the University Blockchain Research Initiative that Ripple hosts and the relationship with the XRP Ledger Foundation.
UBRI is a set of over 30 academic partners that Ripple have around the world. Ripple has committed $50 million to UBRI, as well as expertise and technical resources. I'm really hoping to join up my developer relations efforts with UBRI.
The other area is the relationship between Ripple and the XRP Ledger Foundation. I have known Bharath and Wietse, who are the main drivers behind it, for a while now and glad to be able to act as a conduit between Ripple and the XRPLF. There are a number of resources that have been managed by Ripple historically that we are hoping to move over to the XRP Ledger Foundation as it makes more sense them being held by an independent foundation.
Zettelkasten
Zettelkasten is a centuries-old method of note taking and organising information. It generally uses index cards, or small slips of paper to store notes on. Notes are then numbered in a hierarchical fashion and linked to each other.
Think of it like a manual form of hypertext.
Why am I doing this manually? Well last year I bought myself a fountain pen as a gift to myself with some reward points I got for work on Choirless. I have been using index cards for my daily todo list. For whatever reason, I've found this to be more motivating than doing it digitally. I think the act of actually writing out the items on my todo list, and checking them off with a pen makes me focus more. Such a nice satisfaction actually ticking things off with a nice fountain pen.
[a view of some of the cards after my first day]
So I thought I'd try extending this approach to note taking. And what better way to start, than with a new job. I am meeting so many new people and trying to keep track of what everyone does, and how it all relates. This week so far, I've started 46 cards, including 25 "people" cards, for each of the people I've "met" so far this week.
Will I miss the convenience of digital representation? The portability? The searchability? Perhaps. But let's see how this goes.
Monitor
I finally got myself a new monitor. A lovely nice big 27" Lenovo Thinkvision T27-P10.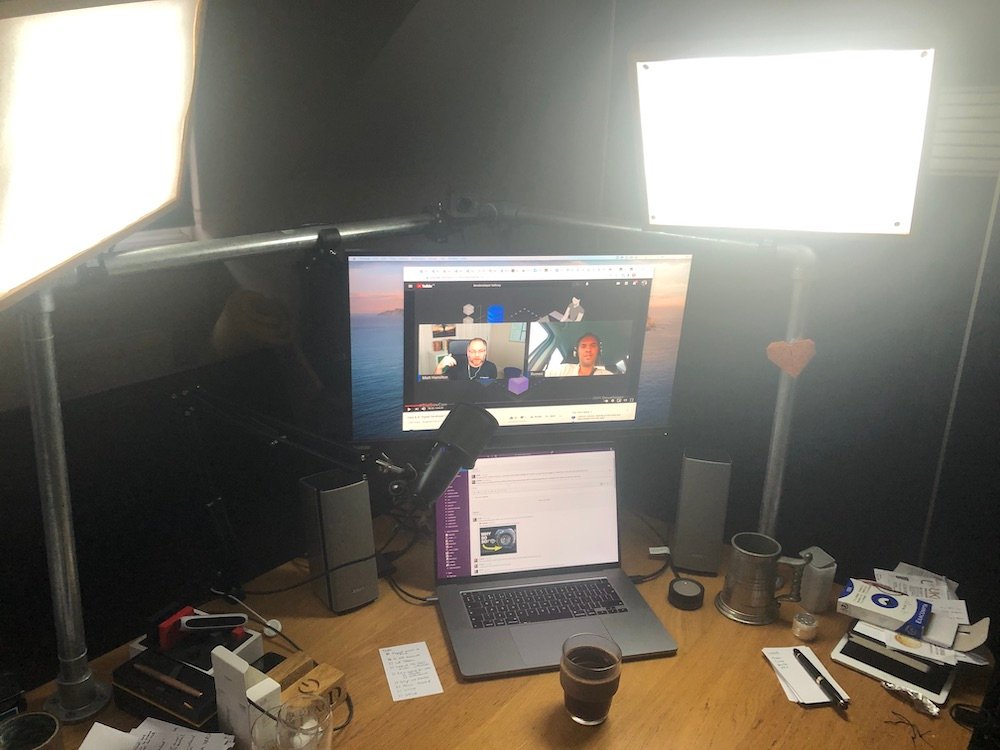 [My desk setup with my new monitor, streaming lights, macbook and coffee]
This monitor has USB-C and USB-PD so can charge my Macbook Pro and carry the display, audio out, and USB for webcam signals all down a single cable. It is also 4k UHD (3840 x 2160) resolution and so nice and sharp. Before I was using an old HDMI 1080p monitor and text was so blocky in comparison to the retina display on my Macbook.
Next up I need to get a decent keyboard. I've got my eye on a Ergodox EZ if I can find one in this country.
Silver
So the stock market all went kinda crazy over the last couple of weeks with the Gamestop short squeeze that was going on. As a follow on to that, there was rumour of a similar thing that might happen with silver. It has long been said that the price of silver has been suppressed by various shady means, and that a large buy-up of retail silver might cause a big enough shock to the market to break out. So I decided to jump in for a bit of fun.
I actually ordered three 1oz 2021 Britannia Silver coins. These were about £25 each at the time I bought them. And I bought them as a gift for each of my three kids as a commemoration of the year just passed, and perhaps the year in which the global financial system gets a bit of a poke. I then decided to buy an extra 10 coins for myself just to see what it was like. I've never bought metals before, especially not physical metals.
[A stack of ten silver 1oz Britannia coins]
These coins have a face value of £2 and are actually legal tender. Not that you'd want to go and pay for £2 worth of good in a shop with a £25 silver coin. But being legal tender, they are not subject to capital gains tax when sold. And they are quite fun just to have on my desk as a memento. But don't worry folks, my main investment is still XRP ;)
Take care, stay safe!