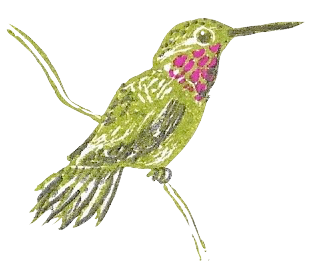 いってきます!  
Over the past few weeks, we've been busily preparing for the next phase of our collaborative endeavours as Hummingcrow & Co. We'll have an announcement to make in November with more details. But first...
We're headed to Japan, and we're taking Humm Hill with us!
~ Wait... wha?
That's right, Quinton – hold on to your head plume, because today we'll be traveling 7,000 km across the Pacific Ocean at near-lightspeed for a virtual stay in Japan.
~ ..!
---
  Before overseas travel was put on pause this year, our grand plan for October was to visit Japan together for the first time. We had been practicing Japanese (日本語), trying out washoku (和食) recipes, discussing friends (友達) living there who we'd like to visit, planning our budget, and mapping possible routes & destinations. As things stand, there's no telling when this trip will actually be possible in the future – at least, physically... So that got us thinking: why not adapt to these circumstances and make the journey (旅) a different way?  
Off we go! (A glimpse at one of our first digital art collaborations with our new tablet)
  We started brainstorming together and came up with a big list of ways that we might still channel the spirit of a trip to Japan (日本) despite being grounded here on our own edge of the Ring of Fire. In practical terms, this means that over the next few weeks, we'll be spending time exploring Japanese heritage locally while also traversing this mycorrhizal network that we call the World Wide Web to build a virtual bridge from Humm Hill to Japan.
Among other things, we'll be:
Our latest grocery run was a lot more fun than usual! おいしい...
  As it happens, not only does today mark 59 years since Seán's grandfather first visited Japan, but our local Nikkei Cultural Society recently announced that they'll be hosting a virtual edition of their Japanese Cultural Fair (which we attended in person last year) later this month. What better way to relieve our zugunruhe than by taking in some taiko (太鼓) drumming, koto (箏) playing, ikebana (生け花) flower arrangements, and kamishibai (紙芝居) storytelling?
---
  This may all sound like a busy time (as any major trip always is!), but we're actually embarking on this 'virtual vacation' as a means of taking a step back from blogging and some of our usual routines to focus on nurturing our creative practice. We also have a lot of stewardship work and winter prep to do around Hum Hill, so we'll be spending more time offline/outdoors as well. Additionally, we'll be finding ways to rebalance, re-prioritize, and take care of our mental and physical health (which is one of the main purposes of the trip, truth be told) as we shift into the next phase of Hummingcrow & Co.—while also having fun in the process!
Inside of Seán's suitcase – a perfect fit!
---
  We'll be sharing glimpses of our journey through the Japanese social networking platform note, as well as links through this Are.na channel. Please feel free to join us!
As for this blog, we may squeeze in a small, irregular update or two (about other goings on in previous weeks), and are planning to share a summary of our trip when we return. If all goes well, perhaps we'll do more virtual trips in the future...
Otherwise, じゃぁね!
~ ハミングカラス (ケートと ショーン)
#announcements #art #日本 #autumn