Top 7 Benefits of a Coil Subscription in 2020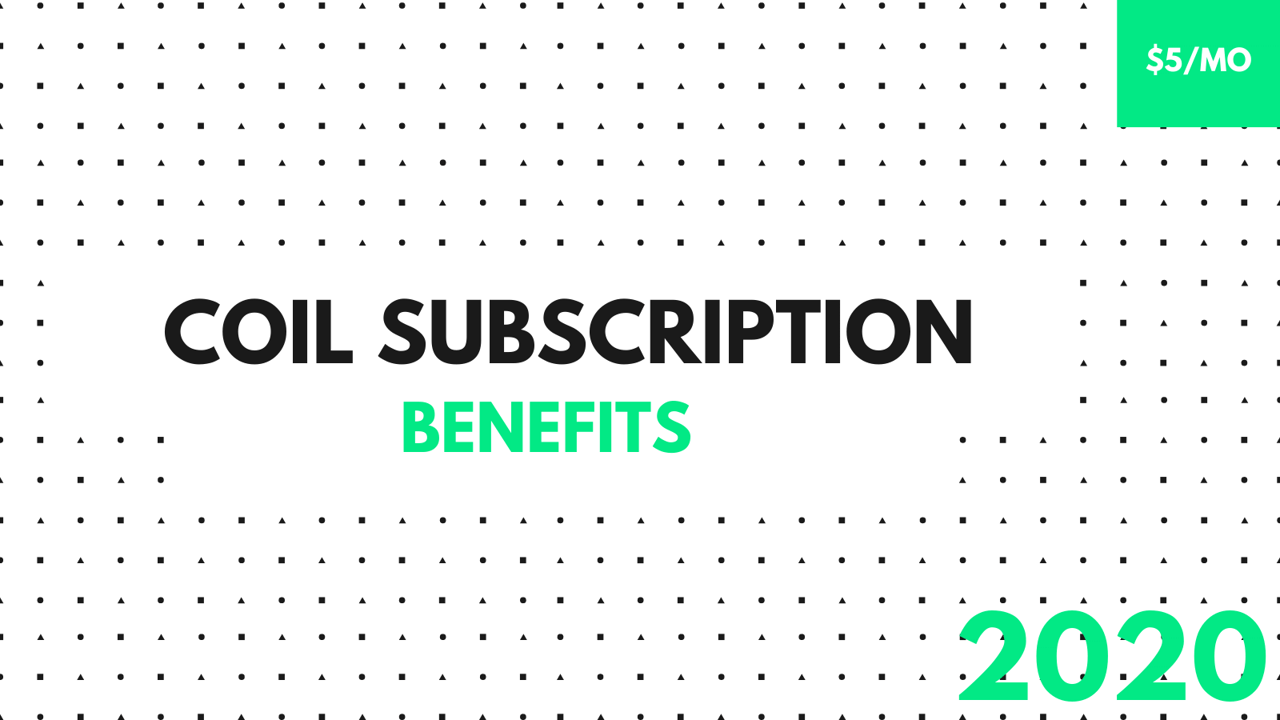 Subscriptions exist everywhere you turn. You most likely have a subscription to at least 1 service as we speak. Services such as Netflix, Hulu, Amazon Prime, and Spotify are among the most popular subscriptions that exist today. Subscription services allow a user to pay a flat monthly fee to obtain unlimited use of the service throughout the entire month. Millions of people across the world have access to and enjoy these services on a daily basis.
The problem though that exists with traditional subscription services is that they are siloed accounts. In other words, each service you sign up for in order to listen to your favorite music, or watch your favorite movies and television shows, is a separate company that charges your bank or credit card on a different date each month. Consumers are now starting to realize the headache involved with keeping track of so many services and the fees associated with them.
Wouldn't it be nice to pay for one subscription each month and have access to a multitude of services across the internet?
Introducing Coil. For the cost of $5 per month, subscribers have access to a multitude of benefits, or features if you will, brought to light by Coil's Web Monetization technology. Coil subscribers, with the extension installed in their browser, or who use the phone app, Puma, stream micropayments automatically to various Web-Monetized platforms during each user session.
In other words, one subscription to cover them all.
As Coil technology continues to mature, and a healthy ecosystem of providers and consumers is developed, gone could be the days of siloed subscription services. Pay attention to the following top 7 benefits of purchasing a Coil subscription in 2020.
Benefit #1
Blog and Video Content
Content is king on the internet. It is what people search for the most when they want answers to burning questions or just want to discover new and exciting trends. This is often accomplished through written content, blogs, and video content.
The first benefit of a Coil subscription is full access to exclusive Coil blogs and Cinnamon videos [](https://cinnamonvideo.com/) in a clean, crisp, ad-free environment. Subscribers can view all of the locked content inside each article that non-subscribers do not have access to viewing.
Benefit #2
Imgur Emerald
Imgur is a fun place online to host and share images and memes all within a single community. Imgur Emerald is a special, Coil-activated, ad-free version of Imgur that gives users additional features such as avatars, trophies, a founder's club, and even a confetti launcher button.
Currently, Imgur Emerald is available for desktop only but is working on expanding to mobile in the near future. If you enjoy browsing for various images, GIFs, and memes, Imgur Emerald offers a premium experience to Coil subscribers.

Benefit #3
Publications and Web Development
More publications and web development sites are implementing web monetization abilities into their back-ends, allowing subscribers to aid them via micropayments in real time as content is being consumed.
Many teams that are working on quality projects are in need of funding, and every little bit helps. Publications such as Hackernoon, and web development sites like DEV do a great job at publishing quality information that is worthy of reward.
Benefit #4
**Gaming**
The gaming industry is huge, generating billions of dollars per year from over 2 billion gamers across the world. The gaming community includes not only console gamers, but also PC and mobile gamers. A top benefit of a Coil subscription as it relates to gaming is access to exclusive features within an assortment of different games.
For example, Enclave Games has an assortment of HTML5 games that support the Coil browser plugin, allowing streaming payments to game creators. One such game that is Web Monetization enabled is called Flood Escape where you get an extra 100 coins for being a Coil subscriber.
Benefit #5
**Zero-Tracking**
Privacy is more important now than it ever was due to the increased amount of hackers and spies that exist on the internet. Coil is determined to make privacy a top priority and they will not track your browsing habits in any way opposed to other subscription providers that do not place emphasis on this topic.
Benefit #6
**Support Your Favorite Creators Directly**
Supporting creators with a Coil subscription is a bigger deal than many may think. Instead of stealing data and selling them for profit like big conglomerates online today, Coil provides an alternative form of payment to support the time and detail that creators put into their work.
Every time you view a creator's author page or an individual article, they are receiving support as you browse without the need to lift a finger. The Coil extension and the Puma browser work in the background so that you don't have to change any of your browsing habits.
Benefit #7
**Community**
Once you become a Coil subscriber, you instantly become one of the family inside the Web Monetization community. Whether you are a creator, a web-developer, or if find yourself in a completely different role, there is a place for you to get involved in a big way.
There is an old saying that says this, "When you pay, you pay attention". In other words, when someone puts their own money towards something, it means they believe in it and will oftentimes place their attention towards seeing it through to the end.
For help on getting involved in the community as a Coil creator, feel free to reach out for details here.
Wrap Up
Subscription services are a dime a dozen in the 21st century. But, a Coil subscription breaks the mold of traditional subscription services and offers a new way to experience the web. As the Web Monetization ecosystem grows, subscribers will see more exciting benefits coming in ways that haven't even been invented yet.
The future looks bright for Coil and Web Monetization as a whole. New projects are being born as we speak, shaping the future of the internet as we know it. A Coil subscription today is $5 per month. Feel free to give it a try and experience the benefits for yourself.
Stay safe, stay humble. ✦
Recent articles:
✬ Coil is Highly Underestimated
A futuristic note to subscribers...
Continue reading with a Coil membership.