Tracking the Emperor (part 2)
I'm not a stalker of the Emperor of Japan. Please read previous related post for the explanation. Now it's experimenting time!
The Setup
As said, I want to experiment with Traccar solution, so:
I've installed the Traccar app (from F-Droid) on my mobile phone.
I've downloaded the Traccar server in the "Other" version: even though I'm currently on Windows (office laptop), I don't want to install personal things here (even though I can technically do that), obviously, so I've chosen the Zip file version with its "very complex" manual installation procedure. Basically, I've downloaded the zip, unzipped it in a folder and simply run a per the instructions: java -jar tracker-server.jar conf/traccar.xml. Going to http://localhost:8082 and it works like a charm, with admin as user and admin as password, as described in documentation.
Then I've opened the app and read the Device identifier field, that has to be configured in the server.
Next step, going in the server (through http://localhost:8082) and adding there such Device so that the server will recognize its messages, and show it in the map. I'm not in Germany... it's a picture I've taken online somewhere...
In order for the server to be reachable from my phone, I've created a free account on ngrok and after having started the Traccar server (through Windows command prompt), I've opened another command prompt to let ngrok knows my connection: ngrok http http://localhost:8082 and that's it. (Obviously, before that, there's a one-liner to let ngrok configure the secure connection through your token: ./ngrok authtoken aaaaaaaaaaa (where aaaaaaaaaaa is the token you'll find in your dashboard setup page as soon as you login in ngrok). Then you can run the previous command.)
That's it. I mean: this morning I've run the server, opened the ngrok connection and once you run the ngrok command you'll receive the connection URL (it's the free account, it changes every time):
ngrok by @inconshreveable                                                                               (Ctrl+C to quit)                                                                                                                        Session Status                online                                                                                    Account                       Marco (Plan: Free)                                                                        Version                       2.3.39                                                                                    Region                        United States (us)                                                                        Web Interface                 http://127.0.0.1:4040                                                                     Forwarding                    http://73020e1ae0d6.ngrok.io -> http://localhost:8082                                     Forwarding                    https://73020e1ae0d6.ngrok.io -> http://localhost:8082                                                                                                                                                            Connections                   ttl     opn     rt1     rt5     p50     p90                                                                             0       0       0.00    0.00    0.00    0.00                                              

I've grabbed the HTTPS URL and written it into the Server URL field in my app.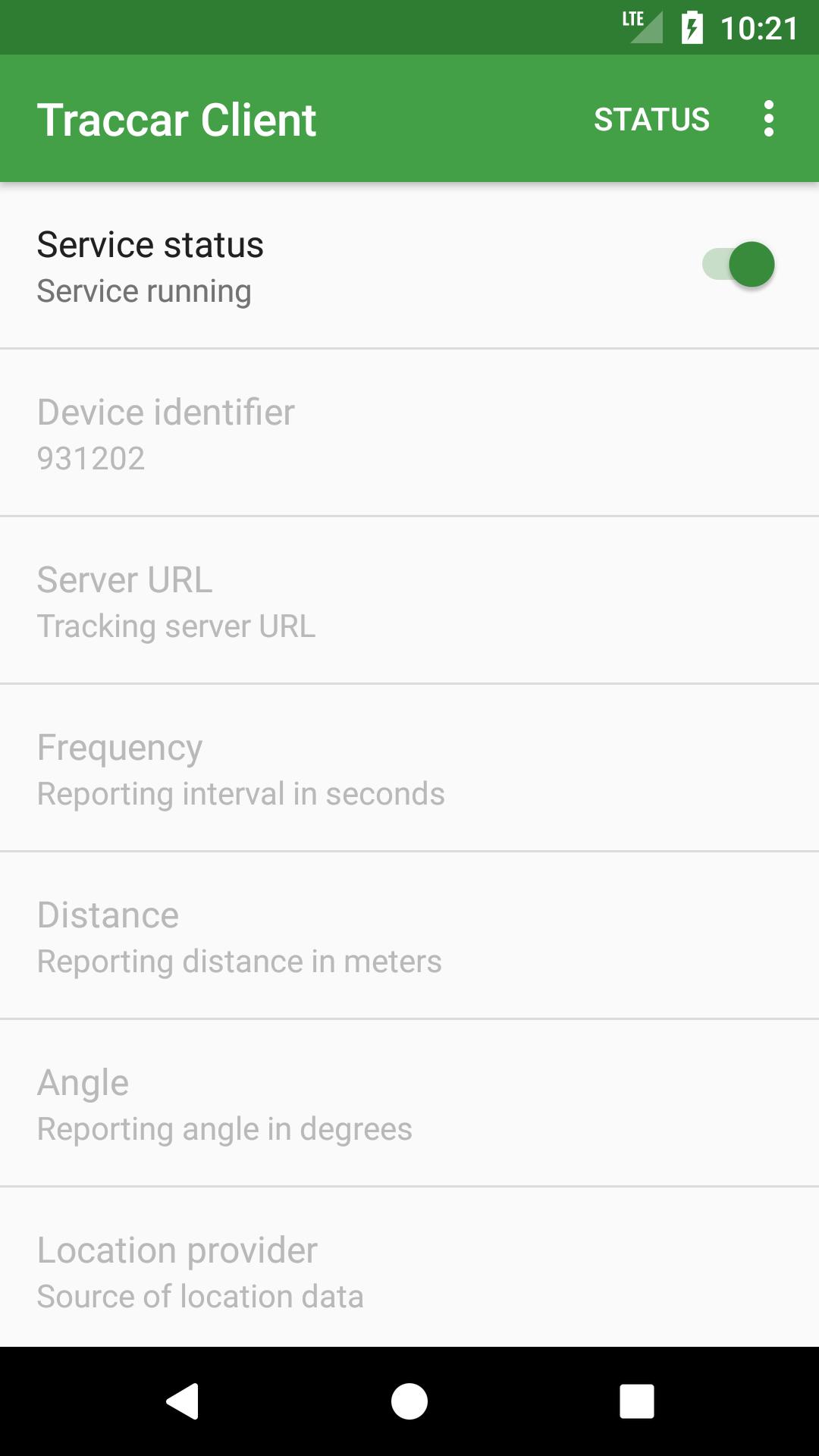 I've turned on the Traccar app Service status, and as soon as I get outside, to bring my son to school, the app started sending positions to my server! Optional: I've set the Frequency to 120 seconds.
Open Points
There still are a few things to check:
I have to use the mobile phone browser to access the server and see the position on the map. Not nice, but can survive it. I've not yet explored alternatives.
As foreseen by my colleague, there is the possibility to use the free account of AWS EC2 for having a much secure place (see, for example, Private GPS tracking server on AWS Cloud for free for an English guide or Guida server privato per Traccar (GPS SinoTrack e Tracking vari) in Italian language), but as said I don't like the idea to put my (son!) data there.
I was not able to see the complete movement path but only the live position. It should be only a matter of configuration, I think.
---
Tracking the Emperor (part 2) by Marco Bresciani is licensed under CC BY-SA 4.0