Hello everyone, this is MateoXRP with MG.Social. We are very proud to announce that our MG.Social mobile app has been accepted into the Apple iOS app store and Google Play store.
If you do not already know, MG.Social is an ad-free, web monetized social network that rewards creators for their content contributions:
https://cinnamon.video/watch?v=505576973699909490
Since we anticipate new users will be joining MG.Social to check out the mobile app, we wanted to put together a quick guide that collects everything a creator will need to get started joining and creating monetized content on MG.Social. We will also explain how monetization on MG.Social works and rules of the road for the platform.
What do you need to get started:
A $5 monthly subscription to Coil.com (required)
An ILP payment pointer to accept streaming micropayments to your postings (optional)
A Xumm XRPL account to send and receive XRP tips on postings (optional)
Coil and the Web Monetization Standard represent a new paradigm for monetizing content on the web, ad-free with a single paid subscription. For those just starting out with this technology, please refer to this excellent guide, which will walk you through setting up a Coil account and obtaining an ILP payment pointer from a wallet provider (Uphold is the wallet provider shown).
You will need a paid Coil account to join MG.Social. After obtaining your subscription you can now use your Coil account to login to MG.Social using either the mobile app or on the web at https://mg.social
After creating your MG.Social account you have the option to add your ILP payment pointer address to your MG.Social account settings to begin accepting streaming micropayments on your postings. From the app this can be done by going to your profile and clicking the edit profile icon in the upper right corner of the screen. The edit profile screen will be displayed, add your payment pointer to the 'Payment Pointer' section: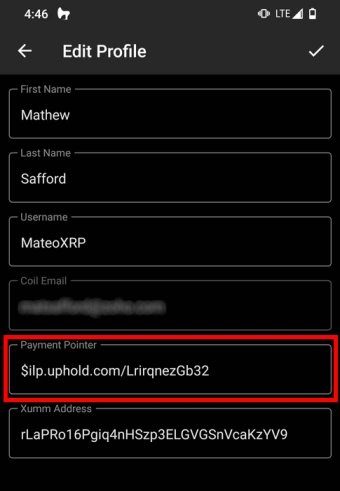 For those who wish to accept XRP tips on their postings, download the Xumm app for your mobile device. Follow the prompts in the app to setup a new XRPL wallet address (A 20 XRP fee is required to activate a new XRPL address). Once you have your Xumm XRPL wallet address created and activated, add it to your MG.Social account settings:
For more detailed instructions on setting up a Xumm wallet refer to the video here.
How does monetization work?
After a creator has added their ILP payment pointer and/or their Xumm address to their MG.Social account settings they will have ability to create monetized postings on MG.Social. The two forms of monetization for postings on MG.Social are Coil web monetization micropayments and XRP tips through the Xumm app.
Web monetization micropayments (Coil): when another MG.Social user is viewing and interacting with your posted content they will be streaming you small payments ($.36/hr). Creators can choose to be paid out in either XRP or USD.
XRP tips (Xumm): MG.Social users can send XRP tips to your postings using the Xumm mobile app for iOS and Android. XRP is a digital asset that settles in seconds with transaction costs of a fraction of a penny.
You can check how much monetization your posts have generated by going to the 'Earnings' section of the mobile app or by visiting your profile page on the website.
How does MG.Social earn revenue?
We do not take any cut of the streaming micropayments or XRP tips that MG.Social users send to creators when viewing their monetized content. We earn revenue by web monetizing the ancillary pages of MG.Social (such as the login page, lastest member page, etc.) with Coil. This revenue allows us to develop and scale the platform ad-free. MG.Social will never sell user data to advertisers.
Rules of the road
1. Only monetize your own original content:
As a creator on MG.Social it is your responsibility to ensure that you monetize only your own original content. When posting content created by someone else always make sure to clear the 'Monetized' flag and attribute your source.
2. No nudity or adult content:
Although we value free expression, for liability reasons we do not allow any nudity or adult rated content to be posted to MG.Social.
3. Be respectful of one another:
MG.Social currently has a small group of dedicated creators and users utilizing the platform. As we grow we want to maintain the positive atmosphere and feeling of community that we have developed so far.
Any questions or issues anyone has feel free to reach out to us on any of our various platforms or send an email to admin@mg.social. Until next time take care!