XRPLORE: Dev Null Productions
The first word that comes to my mind when I think of Dev Null Productions is... presence. Whether it be via XRP1ntel, the comprehensive XRPL data analytics platform, to Dev Null's informative Twitter feed, or their active contribution to the XRP Ledger by not only running a Validator but also helping with improvements to the core rippled code base, Dev Null Productions will already be there, strategically positioned, when the Internet of Value is unleashed.
But what has turned Dev Null into developing this impressive level of participation in the XRP ecosystem? Mo Morsi, Founder and CEO of Dev Null Productions, attracted by what he describes as the "plethora of activity" he found in the XRP Community raised the question: "What can we contribute?", and the rest is history...in the making.
XRP1ntel
XRP1ntel is the XRP data analytics platform of tomorrow that is already at reach today. XRP1ntel was conceived from Mo Morsi's notion of adding value to the ecosystem, by enabling institutions and individuals to easily gather insight and decision elements like, which currencies are being sent across the XRPL?, and who is using it?
Overview
Right from its Overview section, XRP1ntel offers an intuitive view of the data gathered and displayed across the platform, grouped into three main domains:
XRP Ledgers: Shows the current active ledger number. At the time of writing it was 51,856,157 but it quickly ticked as the next ledgers were closed.
Accounts: Showing the number of current XRP wallets activated.
Top Balance: Showing the current XRP balance of the Big Kahuna, in other words, the wallet holding the largest amount of XRP (rDbWJ9C7uExThZYAwV8m6LsZ5YSX3sa6US) belonging to Ripple.
Right underneath the three main domains, you can also see the latest activity in the ledger with the possibility of filtering six different transaction types: payments, offers, escrow related, payment channels (an optimized way of sending recurrent payments), accounts set and trust lines set.
Ledgers
In the Ledgers section, you can choose a wide range of options to deep dive into the ledgers, downright from ledger number on the top left side of the page or choose a desired time stamp as shown in on the top right corner of the page if you know the time you wish to search for.
In the two larger sections of the page you can see further details about the ledger being visualized (top): account hash, ledger closing time, among other info. And the accounts that were modified by the transactions in that ledger (bottom).
On the right hand side you can also see an overview and a pie chart showing the distribution by types of transaction for the selected ledger (Payments, offers, escrows, accounts set, trust lines set).
Accounts
In the accounts section you can sort XRP addresses (earliest, newest, most XRP, least XRP, etc):
and also fetch details from each one. For example, in this screenshot we can see the details from one of Chris Larsen's (Executive Chairman of Ripple's board of directors) wallets:
In the wallet details you can browse for transactions and also for trust lines set and ledger entries.
KYG
Within the Accounts section, XRP1ntel also curates key information about the different gateways through which individuals and institutions can access to transact in the XRP Ledger. Trust is a vital element on gateways, and participants of the Internet Of Value must carry out proper due diligence
Once you click on the gateway you wish to know more about (in this example Bitso), information like the main XRPL address and the obligations for different denominations for currencies for that gateway appear along to the link to its KYG (Know Your Gateway) in the top right corner of the view.
The KYG shows details about the gateway based on the available facts and information. Data that can help XRPL participants evaluate whether a gateway can be trusted or not based on information like:
◾️Associated individuals.
◾️XRPL Addresses.
◾️Contact information.
◾️Headquarters location (Address).
◾️Further references.
The KYG also shows an overview which is an appraisal of the gateway, and the gathered information about it.
Reports
And then we have my favorite section, the reports. Where do I even start on this one? In this section you can access a myriad of reports on the status of the XRP network and also download data and charts. Some of the charts we can obtain from the report include:
Ledgers closed in a given time frame. This gives us an idea of overall network activity.
Transactions across the ledger for different time frames. For example, here is shown the payments and offers overview for December 5th, where 99.2% of the payments across the ledger were done in XRP and most of the offers in XRPL's DEX were done in the XRP/CNY pair and viceversa.
Accounts overview: Showing the top payers and total new accounts created in a given time frame (e.g. 547 XRP accounts were set on December 6th 2019 and Coins.Ph was the top payer of the same day):
The Waterfall
The most recent addition to XRP1ntel is The Waterfall. In fact, this feature had not been included in the original edition of this post and it was added the day it was announced on Twitter:
The #XRP Transaction Waterfall has been ported to xrp1ntel!!!https://t.co/0QxtZUUd28

Furthermore we've released the code as an open source vuejs plugin! Fork it on github here:https://t.co/0OulgVj7Bg#XRPVisualizations #xrpthestandard #0doubt pic.twitter.com/MFcHmjb4YY

— /dev/null productions (@DevNullProd) December 19, 2019
Originally shown in https://wipple.devnull.network/, the waterfall is a sleek visualization of the activity in the XRPL. On the yellow gear on the top right corner of your screen you can find the color codes for each type of transaction and also some options to adjust the visualization (tail length of the falling numbers, speed, etc).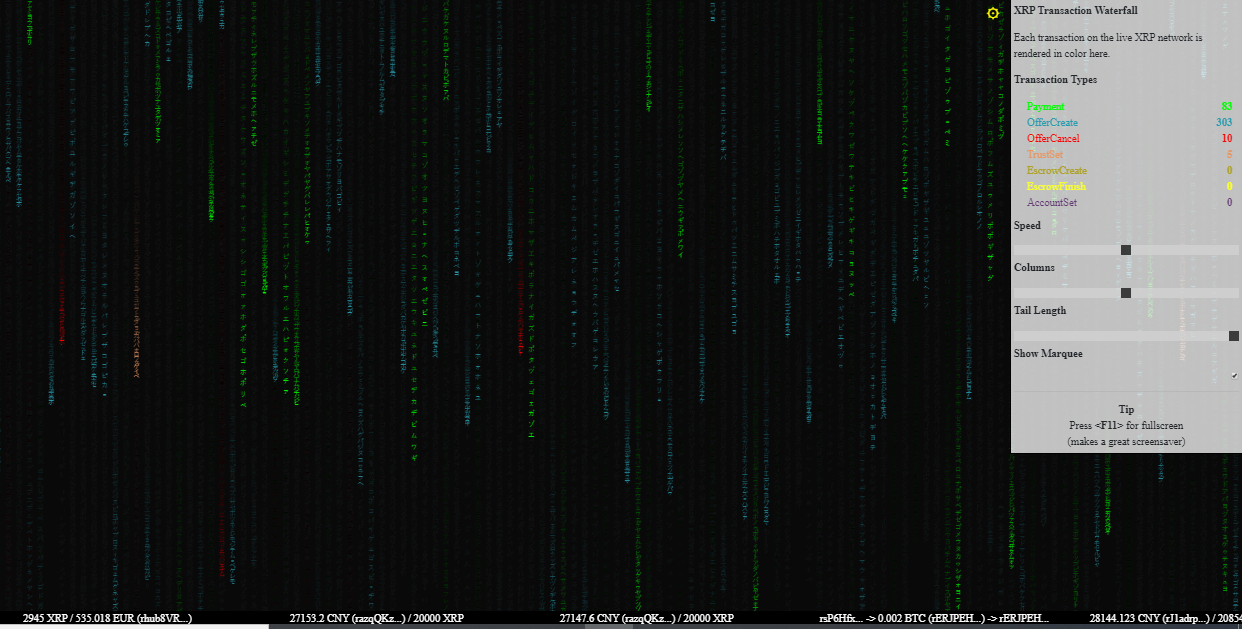 On the bottom of the screen you see further the transactions running from right to left as they happen, and by clicking on one of them, it will open XRP1ntel's explorer with the full details of the selected transaction.
Dev Null on Twitter
If you are an XRP enthusiast, you are on Twitter and and you are not following @DevNullProd you are doing it wrong. Like they say, a picture (in this case a screenshot from their Twitter feed) speaks more than a thousand words:
Dev Null brings its analytics expertise to Twitter and provides insight about new account creations, transaction activity, different currencies being sent across the XRPL, payments and if the XRPL had also beats per minute you can count it would also be tweeted by these folks. An absolute must-follow.
Syracloud, Dev Null's XRPL Validator
In its efforts to add value to the XRP Ledger, Dev Null Productions also runs Syracloud.net, an XRP validator, helping in turn with the decentralization and performance of the XRP Network.
Even More Presence.
A few days after I started writing this blog post, an awesome announcement from Wietse Wind emerged on Twitter: An XRPL Full History Cluster is now available. In his tweet, Wietse also reveals the participation of @alloynetworks and probably Dev Null Productions.
I'm very proud to introduce: https://t.co/knbP3lquE2 ?

XRP ledger full history cluster. High available, low latency & geographic routing. Provided by trusted XRP community members.

? @alloynetworks for the support+POP & I hope @DevNullProd adds his FH node to the pool soon ;)

— WietseWind - ? XUMM @ XRPL Labs (@WietseWind) December 6, 2019
Why is the Full History Cluster so important? A pool of higher quality nodes having history all the way back until XRPL genesis has been made available by trusted members of the XRP Community in addition to the ones ran by Ripple.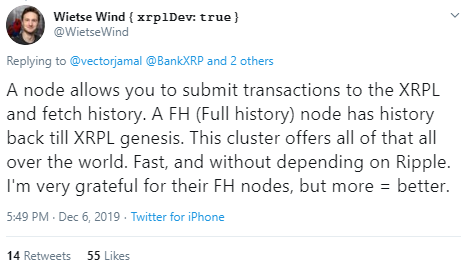 And since Wietse's announcement, Dev Null Productions has confirmed its participation in the XRPL Full History Cluster, proving the point that in the XRPL, they are a synonym of presence.
Credits:
Header photo by Franki Chamaki on Unsplash
All screenshots obtained from XRP1ntel.com
Mo Morsi, Founder and CEO of Dev Null Productions was so kind throughout the writing of this blog, that he even agreed to write a personal note for this edition of XRPLORE, which I originally intended to include in the subscriber only section. I found it so authentic, valuable and heart-felt that I changed my mind and decided to share it openly...
Mo Morsi's Personal Note
My journey in XRP and Blockchain in general, like many others', has been filled with ups and downs, victories and defeats, and many, many great stories. Part of the reason why I am so motivated to work on this technology day in and day out, 7 days a week, is that I see the potential for the software and hardware solutions being developed to change the world, driving legitimate social good and a figurative "revolution" when it comes to how humans use and interact with money.
*Of course like any other technology, it is neither good nor evil, and XRP/Blockchain is subject to the same forces which governed all other innovations and advances in human history. The core component to how any technology is used is determined by the community which drives its innovation and adoption, especially in its formative years. I can honestly say the XRP Community is the most competent and professional, as well as the friendliest and most suave community that I have ever been part of. It is a great honour to be part of the company of individuals and organizations that make up XRP Community and while I don't know what coming years will bring, I am confident to say these bonds will last a lifetime.
*
*My sincerest thanks and gratitude go out to all of XRP Community for everything they have given us and rest assured we will be fighting for their interests on all fronts (digitally and in the "real" world).
*
Humbly yours,
Mo Morsi
CEO Dev Null Productions
Continue reading with a Coil membership.