My grandson Mason is 3 years old and Mason is very anxious by nature. Unfortunately it's part of his DNA. His mom brought him for a haircut over a year ago and it was a very traumatic situation for both Mason and mommy. My daughter brought her son to a barber and asked for a "summer cut". I was there and I got to watch this firsthand. Mason was put in a chair and then the barber just starting using the clippers on him. Due to lack of communication, Mason flipped. He was scared, confused and completely overwhelmed. His anxiety had completely taken control!
My daughter felt very embarrassed and immediately jumped to, "Mason's being bad". I tried to explain to everyone involved that I felt this all happened because nobody actually talked to Mason, nobody explained anything to him and he wasn't expecting that. Well, ½ of his head was done and the rest had to be finished. I'm not going to go into all of that but, it truly was traumatic to Mason. It's been a long year with no haircut so I asked Mason if I could take him for one. I told him the process, we watched videos, I showed him the clippers and finally it was Mason's big day. It was haircut time. I decided not to go to a barber but, a salon instead. Young ladies cut hair there and they usually do great with children. I was excited to see if Mason could face his fear and it was only him and I. Here's a review of how our day went!
A years growth!
He even picked the booster over grams lap!
Big boy status! The young lady was wonderful!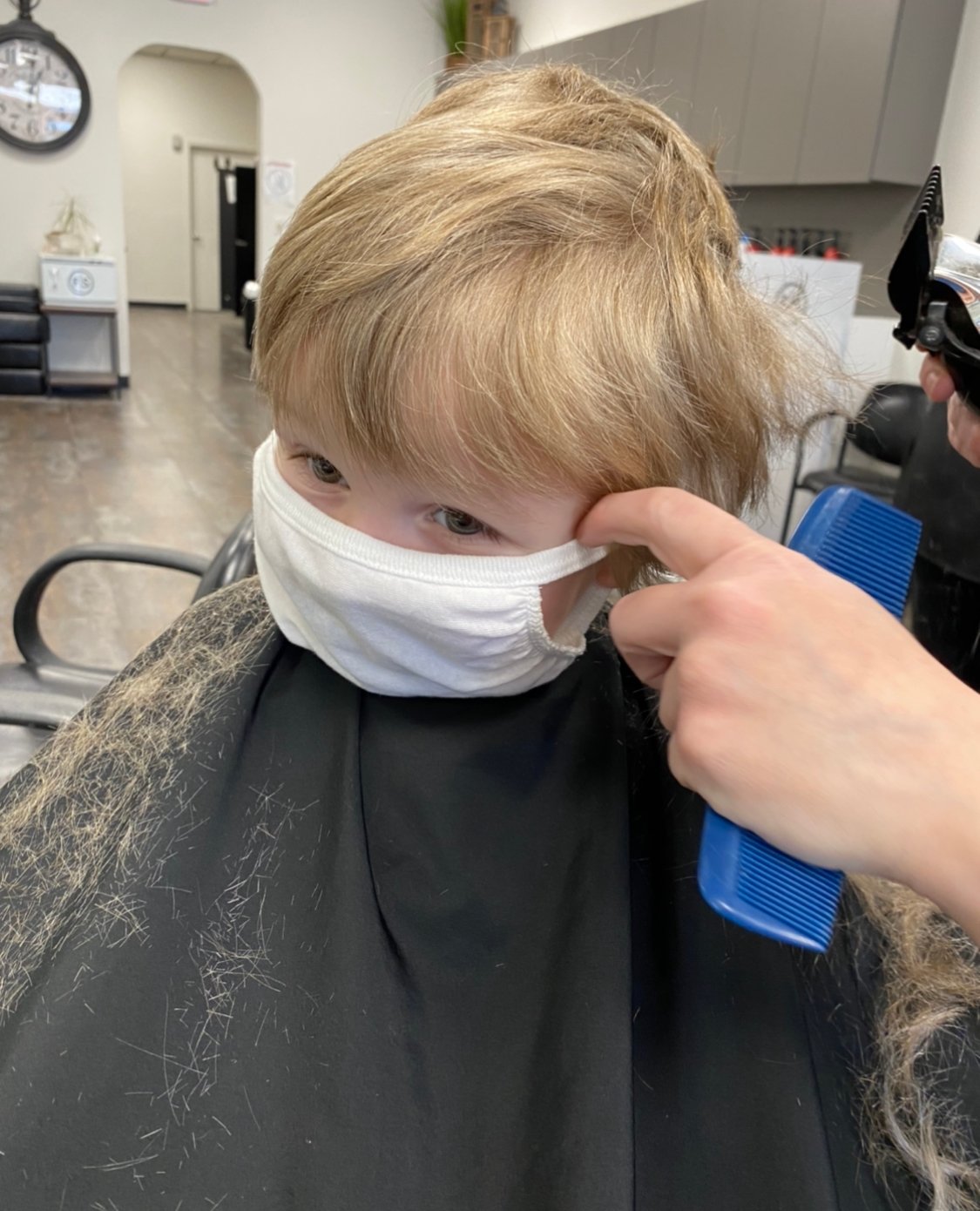 He even had a smile 😊
So proud and so handsome!
We went and surprised mommy at work. She was shocked that he did it!
Mason got a toy for being such a big and brave boy!
The object to this blog isn't to necessarily show my ever so beautiful grandson off but, to talk about the importance of including a toddler in the conversation. What seems like nothing to us, like the clippers, is viewed so differently through a child's eyes. Communication is key to so much but, I think people forget how important it is to communicate with the little ones and especially ones that are generally anxious.
We had a very successful haircut because we prepared for it. We talked about it, watched videos about it and then the young lady that was cutting his hair, let him make all of his own decisions. Grams lap or the booster, clippers or scissors and blowdryer or no blowdryer. I'm proud of Mason. He was brave and he faced his fears. I don't think we will have anymore problems with haircuts but, I guess with toddlers you never know!