While there are many ways to listen to the music nowadays, including streaming audio, video services, download sites and radio shows. And while some require you to sign up, and in many cases pay to hear the sound, there are those that don't. One of them is Soundcloud. It does have registration and subscription options, but it will work without those as well. So does their app, soundcloud.com refuses to load in browser on mobile devices, pushing its app to be installed. Always remember, if you don't want the app, you can instruct your browser to request the desktop version of the site, and it will work then on your smartphone.. In browser it's easier to get the URL address of the podcast or radio show you want to download from soundcloud to mp3.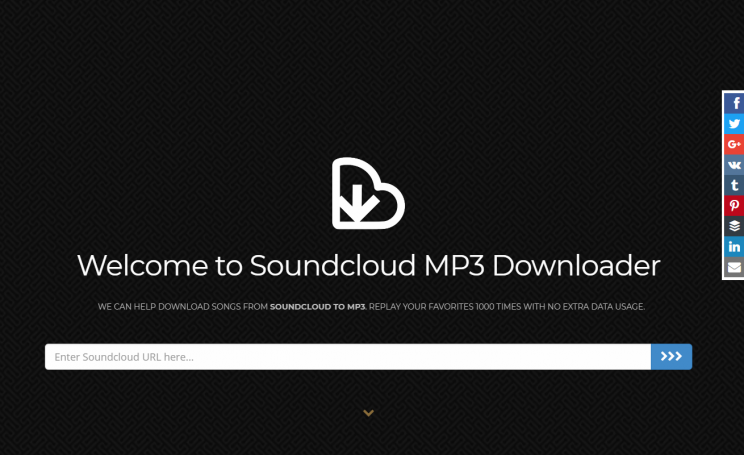 Soundcloud is mostly known for hosting podcasts and radio shows. Those longer continuous sessions usually span 1 hour long periods of hosts talking, music mixing, tracks changing, etc. I've been into soundcloud since the first days DJs started sharing their DJ Mixes and radio shows there. Now pretty much all labels, producers and DJs have accounts on soundcloud. I haven't really heard many famous singers on soundcloud, but maybe because i don't listen to some certain music styles, or tracks in general..
As I've said, I am into DJ Podcasts and radio shows. Some DJs and labels allow downloads of their podcasts, they know that soundcloud streams their music at 128kbps average (and i mean – mediocre) sound quality, while download option, if allowed, provides file as owner has uploaded it. Sometimes downloads can be WAV huge files, which are not really what we want.. Here comes https://soundcloudintomp3.com – nice clean website with fresh design that allows one to download podcasts and radio shows from soundcloud.
Soundcloud to mp3 quality
Sound Quality will max at 128kbps in most cases, but for headphones that is more than enough. I usually download my next favorite radio show or talk podcast right on my smartphone and listen to it while on the train, on the way to work.. While soundcloud does have this kinda annoying feature that tries to download full mp3 sometimes 1-2hrs long of maybe 50-110MB filesize right away onto your device, even if you are just going to listen to first 2-3 minutes of it, given your download speed is fast enough, your device will have downloaded whole stream before you even finish your 2-3 minutes of listening... I sometimes return for 1 or 2 tracks i really liked in the radio show, and have to download whole stream over and over..
Why i say "download stream"? Cause that's how soundcloud's site and app work. Audio stream is served as mp3 and thanks to browser's native behaviors and web app settings mp3 is downloaded as fast as possible.. Maybe to make it easier to fast forward through music, or reverse, or seek, maybe even to free server connections for other listeners, or whatever other reasons.. In any case, I like my Galaxy to download mp3 once and keep it. That's why i use soundcloud downloader.
How to save soundcloud to mp3
All you need is to copy the URL of the page with the podcast on soundcloud, and paste it into the white box (on dark background – easy to find), and press or tap blue button to the right. Remember to do it on the device you want mp3 to end up on. It is much easier to open do this right on your smartphone, rather than to do it on your desktop, and then transfer mp3 to your smartphone, basically creating 2-3 extra steps.. In any case, page below shows what you'd see after pasting some URL and clicking submit.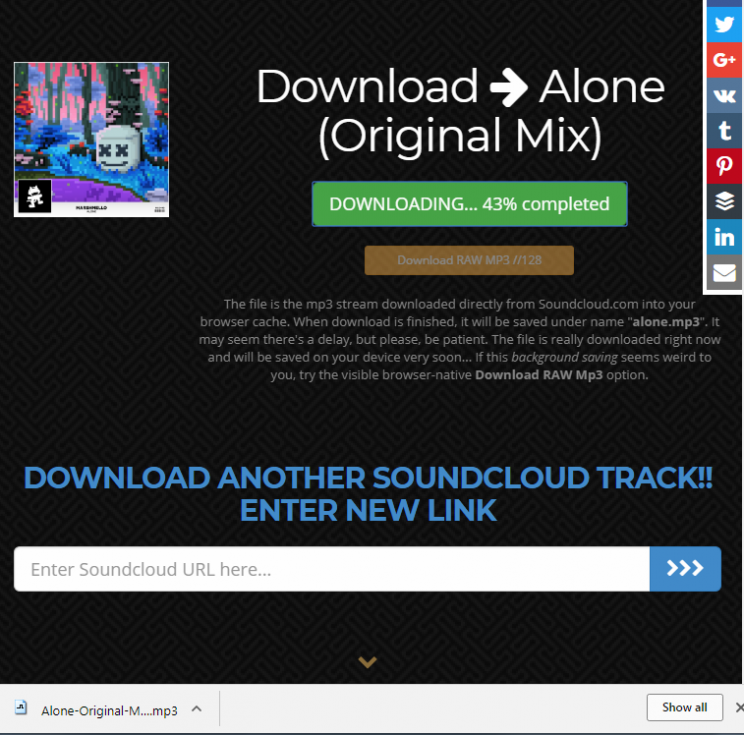 Now comes the interesting part, where this site does download of the mp3 2 different ways. There's HTML5 code to rename the file while downloading, but it doesn't always work, so this site does Javascript download of the file, which is quite fun to watch. You can download "raw" mp3, which is same mp3, only named some random gibberish. Pressing green button will run countdown and then "instantly" save mp3, while orange button will download mp3 like browsers normally do with any other files..
Now all you need to do is find files in the download tab of your browser, move them to some other folder on your device, or just keep them there, and press play on any of those mp3s.. That's all. 1 time downloaded, saved and ready to be replayed 10 more times with zero extra data usage. It is a process similar to youtube to mp3 converting, only soundcloud already serves their streams as mp3 format, so technically anyone can obtain those mp3s by finding them in browser cache folders.. Harder on mobile, but still possible..
I hope you find this useful. Thanks for reading.