Why MEP coordination services are crucial for MEP contractors?
Precise MEP coordination through coordinated MEP models enables MEP contractors to gain greater enhancements in processes that include designing, system coordination, onsite construction, and operations and maintenance.
MEP systems being out of sync can create challenges for MEP contractors at the construction stage, leading to major cost & time overruns. Hassles in visualizing congested spaces, inability to identify and resolve clashes, inferior fabrication & inaccurate installation, greater RFI numbers, and rework are challenges that require an immediate response. MEP BIM coordination services are an ideal solution for MEP contractors to navigate around these pressing challenges.
Improved integration and coordination of Mechanical, Electrical, and Plumbing (MEP) systems present a great opportunity for MEP contractors to optimize project performance. The efficient functioning of MEP systems requires every layout to be clash-free, including architecture and structure in the pre-construction phase. Onsite building projects or construction can only begin if all the coordination challenges are eliminated.
Specific MEP challenges based on 2D coordination include:
Lack of automation systems to identify interferences
Poor visualization of clashes due to fluctuating ceiling descriptions
Realize the impact of various MEP systems based on 2D drawings
Lesser clarity for third-parties to perform drawing reviews
Incorrect annotation of objects or components
Longer time to view sections that incur greater costs for contractors
Revit MEP coordination harmonizes various building disciplines or services to achieve the required building fabrication. As MEP contractors are primarily responsible for prefabrication and installation, MEP BIM coordination modeling assists contractors with detailing and installation to ease onsite construction and hit project deadlines.
Importance of MEP coordination services for MEP contractors
Enhancing installation efficiency, achieving ease of prefabrication, applying insulation, rerouting pipework, etc. can be accomplished with MEP coordination. Integrating the three trades – Mechanical, Electrical, and Plumbing (MEP) produce turnkey benefits such as:
#1. Reduce the possibility of onsite clashes through interference-free MEP design.
3D BIM model(s) of each trade of MEP is generated in Revit and is coordinated into a single model to check for interferences. Clashes are checked, marked, and accounted for in Navisworks through viewpoints, detailed clash reports, etc.
A coordinated and clash-free 3D model requires seamless functioning of mechanical HVAC equipment, ducting, electrical switchboards, panels, pumps, smoke and sprinkler systems, etc. A clean and error-free 3D model assists MEP contractors with hassle-free and 100% MEP systems installation leading to better building quality, zero rework and millions in cost savings.
A general contracting company from Muscat, Oman approached TrueCADD to build a clash-free MEP 3D model supported by MEP coordination drawings. The inputs provided by the client included IFC drawings and architectural and structural BIM models. Using BIM MEP coordination, the MEP engineers resolved challenges of randomized scheduling of MEP models, multi-trade coordination, changing schedules, and clashes in 2D drawings.

Through detailed assessments of the IFC drawings, the team was able to import them into Revit to build clash-free models. Fluctuating schedules were factored into the approach and stringent QC was performed to lower RFI count and mitigate project delays. BIM / VDC collaboration enabled 100% installation of MEP systems onsite, followed by zero change orders, reduced conflicts, and $7 million in cost savings.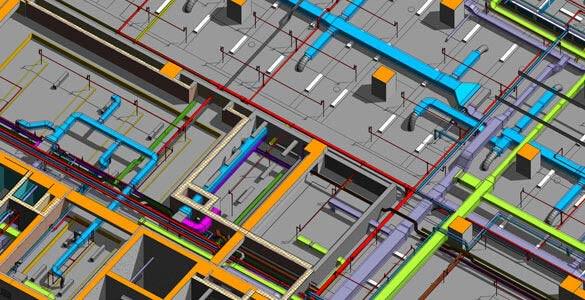 #2. Improve building quality with design and documentation flexibility.
Shorter coordination time and minimal checks enable MEP contractors to have greater control over technical decisions. The flexibility to make design and documentation edits for drawings, schedules, estimations, etc. based on a coordinated MEP model improves design and build quality. MEP coordinated drawings or construction drawings at RIBA stage 5 are used to install MEP systems.
#3. Collaborate effectively through enhanced visualization.
Strategic design and modeling from the onset promote greater visualization and collaboration. Spatial optimization in the centralized MEP model is achieved by laying down primary components first, followed by secondary objects. This helps MEP contractors visualize and resolve hard and soft clashes at the earliest.
#4. Lower significant material waste, reduce rework and simplify the build process.
Fabrication drawings, shop drawings, or IFC drawing extraction helps fabricators build MEP components or systems with accurate geometry. Highlighting and clarifying layouts makes it easier to understand fabrication intent. 2D fabrication drawings with accurate geometry remove dimensional ambiguities to produce MEP systems and components that install seamlessly on site.
A project management solutions firm from Saudi Arabia approached TrueCADD for a Healthcare project. A coordinated and clash-free MEP model at LOD 500 was required based on 2D drawings as input. The team navigated through various challenges that included executing BIM modeling processes during ongoing onsite construction, clash elimination, schedule preparation, and material takeoff calculations.

With complete collaboration and thorough interdisciplinary clash detection and resolution, risk and rework were mitigated, and accurate schedules and material takeoffs were generated. The client was able to streamline construction processes, reduce rework, and save construction time. It also helped the client leverage a better ROI based on precise model-based scheduling.
#5. Create photo-realistic walkthroughs for client presentations.
A coordinated MEP 3D model assists MEP contractors with high-quality presentations. The ability to produce a graphical representation of a physical building reinforced by accurate geometry, timelines, cost, etc. helps win greater bids for contractors.
The presence of accurate and complete design coordination and construction deliverables in one place via 3D models, various 2D drawings, etc. helps the client quickly grasp project intent.
Finally, it may be concluded… Coordinated MEP models have created a significant impact for MEP contractors for new and renovation projects. MEP BIM coordination services are essential for complex and fast-track projects to avoid onsite conflicts that can lead to projects completed within time and budget.
MEP contractors can outsource MEP coordination services for any project type or size to save on time and cost, manage projects efficiently, leverage high build quality, boost flexibility, and improve revenue streams. In-house teams can focus on strategic and operational ideation to improve profitability, whilst the outsourced firm or team takes care of MEP coordination.
About Author:
Harika Singh is an academician & published writer. Her passion for BIM reflects in the in-depth coverage she provides on technology trends. Associate with institutes of repute across India & US positions her to provide valuable insights to achieve an operational efficiency through digitization.