Eighth month for gFam
Hi everyone!
Welcome to our stats and analytics for the gFam platform. We've been tracking and sharing our analytics from the very first moment and so here are previous months:
We want to include everything that's happening in the gFam world to stay as transparent as possible. If you have any questions, please contact us on Twitter.
Platform Stats
*Stats from 06/01/2020 to date (02/01/2021 8:05 am PST):
*
Users: 171
Posts: 3866
Number of Tips: 5129
Total XRP Tipped: 30501.284 ( ~ $11,585.66 USD)
This doesn't include all the micropayments flowing through gFam from Coil subscribers... because, ah, we don't know how to work that out.
Pretty excited to have broken the 30k mark in XRP flowing through gFam. We're sure that's made for a lot of happy creators – who hopefully have kept creating the content they love to create.
[[Source]](https://media.giphy.com/media/55o60jwgV338VEX6ll/giphy.gif)
Project Update
We're hoping to unleash some new functionality in the next couple of weeks, we're just trying to sort out some weird, nonsensical bugs.
We can see why companies release products that need to be immediately patched, it's so exciting when you've got something that you hope people will love and it's so close but not quite ready to release. We heard that patience is character-building so we're very sure we're going to have absolutely amazing characters for our next release.
[[Source]](https://media.giphy.com/media/3djE8NfTE84lm76dCR/giphy.gif)
We've been putting a lot of effort into marketing. We've developed our materials and our strategy and have just started to execute.
We're primarily focusing on Instagram since there's a lot of people on that platform that are really struggling to monetize. The more time we spend on there, the more we see just how badly gFam is needed.
This example literally took 3 seconds to find...
[[Source]](https://www.instagram.com/p/CKwscucnCFs/)
See the comments? It's just constant... people get SO MANY comments asking to collaborate for brand deals or to advertise for them – which are hard to coordinate and usually the Instagrammer have never heard of the product before.
We don't want to join the annoying tidal wave of desperate comments at all, but you also can't just direct message anyone if they're not following you... so conversing with new people to join gFam is really difficult too.
We've tried to leave supportive and encouraging comments instead, to connect with creators whose content we love and we've received a lot of love back for those comments, but no one has actually followed us.... unless they wanted to try and sell us something.
It's all a bit icky.
We're going to build up our content on Instagram to promote gFam and answer questions and share stories, but we're, ah, dubious on how successful this will be. Social media is broken.
Progress on Objectives
We're progressing well on setting up the User Profiles with stats, bio, social media handles and a list of the user's posts.
We've also redesigned the main page to include a lot more helpful information for new people and we're looking to release that soon.
We've been talking to different groups about diversifying our technology so we're not so reliant on XRP. The halt of many US exchanges in XRP trading made us really nervous, but it actually didn't have any effect on our users. We won't be adding additional blockchains anytime soon, but we're looking into it, and we're excited with the potential of introducing ourselves to new communities.
gFam Analytics
You can totally see our analytics anytime by clicking on the Analytics hyperlink at the bottom of the main page panel.
In December we had 762 unique site visits and 2.5k site views.
We're definitely happy to have improved our traffic in January...
Definitely a noticeable uptick of traffic on the 4th of January and that was because our friend Scarlet had mentioned us on Instagram and had linked to her gFam post through the swipe up function in her Instagram Stories.
It's a neat idea, but unfortunately you have to have 10,000+ followers on Instagram to enable that functionality. While it resulted in that uptick in traffic, everyone really only checked out Scarlet's photo and left...
In December we earned 3 XRP through Coil subscriber micropayments and our 250 XRP earnings to date were worth $55.58 USD. Obviously XRP is in the middle of some craziness at the moment, but we did earn 9 XRP in microtransactions.
Most popular was clearly Scarlet with this nice little insight into her model life...
Scarlet received 77 views, 7 XRP and a single comment.
Traffic sources are always interesting to us...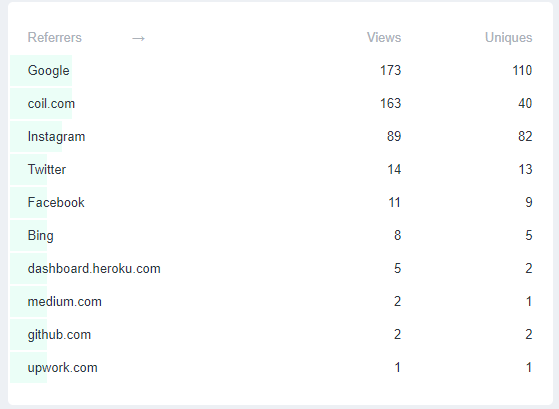 We're still pretty confused by Google. We're finally the number one result if you search "gfam" on Google, so that's good if people forget the ".live" part of our website... which is fair, it's pretty unusual.
Happy to see Instagram, Twitter and Facebook making a showing, if only they knew that we're coming for them.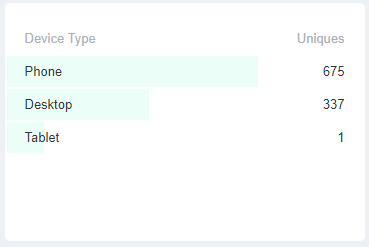 Hello to that one lonely Tablet user...
Chrome is very much surging ahead from last month...
We do love how international our global family is... and that there is always movement in these rankings every single month.
Our Twitter account had 402 tweets and 449 followers at the end of December, so we're growing again...
We've noticed that we don't really grow when we tweet things out, but if someone popular includes our handle in their tweet, then we do really well.
This time it was this absolutely incredible tweet from NickelNDime:
gFam is actually mentioned in this incredible story. The story is great, the artwork is fantastic, the game is awesome and there is a prize of 250 XRP up for grabs.
In the last month we created 7 Instagram posts and gained 11 followers, wrote so many lovely & supportive comments and followed 88 more people.
We've definitely tried to be less terrible with our Pinterest account.
We're hoping to add to Pinterest every day and we've added some videos as well... we'll see how it goes and see if we can generate any traffic...
We hope this post was of some interest to you stats nerds... we're excited about a lot of things and we really hope you are too.
Please contact us on Twitter with any comments or questions!
Click on the below tweet to reply directly if that's easier..
Thanks for reading!