Fifth month for gFam
Hello hello!
Welcome to our stats and analytics for the gFam platform. We've been tracking and sharing our analytics from the very first moment and so here are previous months:
At Benny's insistence gFam has switched from Google Analytics to Fathom Analytics. We've turned Google Analytics off completely because you can't ever know exactly what Google is tracking in the backend. It goes against everything gFam stands for.
One of the benefits that we didn't realise until we started using Fathom Analytics is that we no longer have to have a Cookie disclaimer on our site in accordance with the GDPR Cookie compliance.
Another benefit that we absolutely love, is that everyone can see our analytics at any time. We've got the link at the bottom of the right panel on the main gFam page, which takes you to this link.
Pretty cool hey?
Last month we had 202 users and 1.5K sessions on gFam, and this month we blew it out of the water.
This quintupling of users and doubling of views was due to a couple of thing.
1. The Noonies, where we came in second for Best Web Monetization Innovator. Thank you so much to everyone who voted for us, we can't believe we got so many votes!
2. The announcement that gFam is a Grant for the Web Flagship grantee:
Obviously we're extremely excited about this funding, which we'll be spending on further development of gFam and marketing to bring in new users to the gFam –> Web Monetization –> Coil –> XRP ecosystem.
Accordingly the average time spent on the website dropped from 5 minutes 45 seconds to 2 minutes 18 seconds... and this is obviously all the new people who came to check it all out, but don't spend as much time as our usual global family.
Since we implemented web monetization for all Coil creators on gFam last month, our own ILP accumulation has slowed right down. We earned 8 XRP in the last month... and guesstimate that about 53 XRP went to Coil creators when Coil subscribers view their content on gFam.
gFam only receives microtransactions itself when Coil subscribers spend time on posts of non-Coil creators.
With the change over from Google Analytics we can no longer accurately measure who has the most popular gFam post of all time. We remember that NickelNDime had a post with 56 views and 34 XRP.
Most popular for this month is this incredible family photo from Seth Stanley with 35 views, 20 XRP and 7 comments:
The second most popular post for the month with 21 views is this post from Cintia telling everyone to #GetTheLeadOut which is the current Cinnamon challenge (#ChallengesByCin). Get on it!
You can check out all the analytics for this last month yourself by going to this link.... but here are all the most popular pages.
Traffic sources are super interesting to us. Twitter and Coil are no surprise as those are the communities we love the most and get the most love from.
We're excited that we're getting plugged into the Instagram community a bit more, as we think this is where we'll get the most of our growth from.
The Google entry is interesting. We don't know what search queries are typing in to find out. If anyone knows how to find this out, please let us know. We can say that by typing in "gfam" we're currently off the first page at 11th spot. So, we honestly have no idea how 44 people found us this way, unless our regular global family are typing in "gfam.live" into Google instead of the URL of their browser?
Last month Twitter 94% of the referred traffic and half total traffic, but I'd say it's less than half now, and just 10% of the total traffic.
The device and browser wars are interesting to us, but probably less so to you. iPhones are clearly winning though.
We love our global family so much and so we're absolutely rapt that we've got some great representation around the world...
... after all, XRP tips and Coil microtransactions transfer value across borders seamlessly. We not take advantage of that and create one global family that supports each other emotionally and financially.
Our Twitter account had 286 tweets and 309 followers last month. With the excitement of the Grant for the Web and the Noonies, we've grown 31% in a month... pretty amazing...
Our Instagram account had 38 posts and 30 followers so a 450% growth rate in this month. Also, pretty exciting...
Our Pinterest account had 9 followers last month, so that's a growth of nearly 300%...
... and the general impressions, audience and engagements are all up...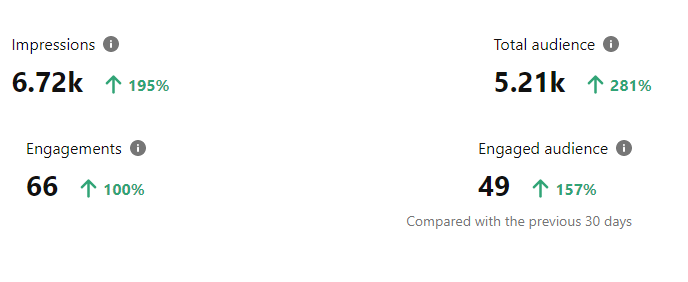 ... but we've still never gotten anyone actually clicking through to gFam from Pinterest.
We do have some ideas on how to up our game on Pinterest and Instagram, so hopefully next month sees some improvement. We're going to be creating content specifically for these two platforms to see how that does.
Our Coil account only rose by a single user in the last month, but that's on us.. our last Coil post was last month's analytics. We're looking to post a lot more over the coming months.
Thanks for reading this post! We've got a really exciting few months coming up, so we very much hope you'll stick around for the ride...