Reliving our travels over the last year
Are you stuck somewhere, hunkered down, chomping at the bit to get out and live again? As full-time RV'rs we love to travel this great country and see the many amazing places to visit and meet the wonderful people that make up our culture. We are hoping to get back on the road soon. In the interim we are setting up our new 2020 Outdoors RV 26kvs travel trailer and installing upgrades. I've done many so far and have a few left to do before we can drive off into the sunset.
Check out our previous BLOG post about installing our Battle Born Batteries and Victron electronics package.
While going through some of our external hard drives trying to get a handle on organizing the thousands of pictures, I started taking a virtual trip to the sites we visited last year. Come along with us to visit a few fun sites.
Arizona was one of our first destinations last year. Millions of years of sediment exposed to the weather make amazing peaks. In our short time in existence, mankind has looked at these and seen these peaks in exactly the same way. Hundreds of thousands of Native Americans have passed these peaks and looked on in wonder.
Outside Amarillo, Texas, is an interesting piece of art called Cadillac Ranch. To quote from Wikipedia "Cadillac Ranch is a public art installation and sculpture in Amarillo, Texas, USA. It was created in 1974 by Chip Lord, Hudson Marquez and Doug Michels, who were a part of the art group Ant Farm. The installation consists of ten Cadillacs buried nose-first in the ground". One of the fun things to do is bring spray paint and color to your hearts content.
If you forget to bring some with you, you may find abandoned cans with some left in them. We were lucky and did. If the smell of paint bothers you, this might be a site to visit from a distance. It is about 50 yards from the highway and the ground is painted with graffiti as well.
Our trips so far were done in a 2018 Keystone Cougar 24rbs. We called her Serenity. She was a great starter rig for us. We learned, however, over time we needed a different floorplan and better seating options. You can see the 2016 F-150 we used to haul her around the country. We added a matching camper shell to give us some more storage since the RV had very little. The combo worked very well but we knew we would not be able to climb mountains nor could we stop safely in an emergency. The truck was just too light.
There are lots of great places to visit in Texas. Maybank is one of them. Tina's brother and family live there so we mooch-docked on their property for a couple of days visit. Walking the little old part of town is always interesting.
I won't dwell too much on the process of moving from a three bedroom home to a 24 foot travel trailer. Just know the process was brutal. We are still downsizing and will probably always be to keep things under our weight limit.
Closing day on the house opened up an entire new world of adventure and friends. We would not trade the opportunity for anything now.
Thousand Trails campground, in Whitney, Texas, was one of our first long term (three weeks) camping experiences. The sites are surrounded by trees and beautiful scenery.
You know you are in Texas when you stop for a coffee at McDonalds and see this!
When the bluebonnets are in bloom the hill country is amazing.
At the end of the day you can enjoy the cool night air and message friends on Facebook :–)
I knew we were doing what we were meant to do when we got these fortunes at the Asian King Buffet. We got the call that the house was sold right after this.
If you are fans of the Pioneer Woman like us, you would enjoy visiting Pawhuska, OK, for the 4th of July weekend. We spent three days there last summer. The Drummonds sponsor a huge celebration for the locals and the visitors.
Breakfast at "The Mercantile" was awesome. The quality was top notch. It was CROWDED!
We did some shopping after breakfast.
Just West of town is the Drummond Ranch. It actually is the entire Northeast corner of Oklahoma. On the ranch is the Lodge where they film the show "Pioneer Woman". You can drive out to the Lodge and see every where they film. I stood right were she stands and wished that was my kitchen LOL
Outside the Lodge you can view to the East for miles. It is raised up on a bluff. The deck is a great place to sit and visit.
Down below, and to the right, you can see the rooftops of the Drummond home.
On the 4th we actually got to meet Ree upstairs at the Mercantile. They have a bakery with plenty of seating to enjoy scones and coffee. She was there signing autographs for her new cookbook. She was really what you see on the show. Genuinely interested in listening to our story. We were almost the last people in the line and she had been there for a couple of hours signing. She looked us in the eyes and listened to our nomad life adventure with genuine interest. Very nice person.
We were sorry to see the day end in Pawhuska. We did not stay in town for the fireworks but I hear they are pretty amazing.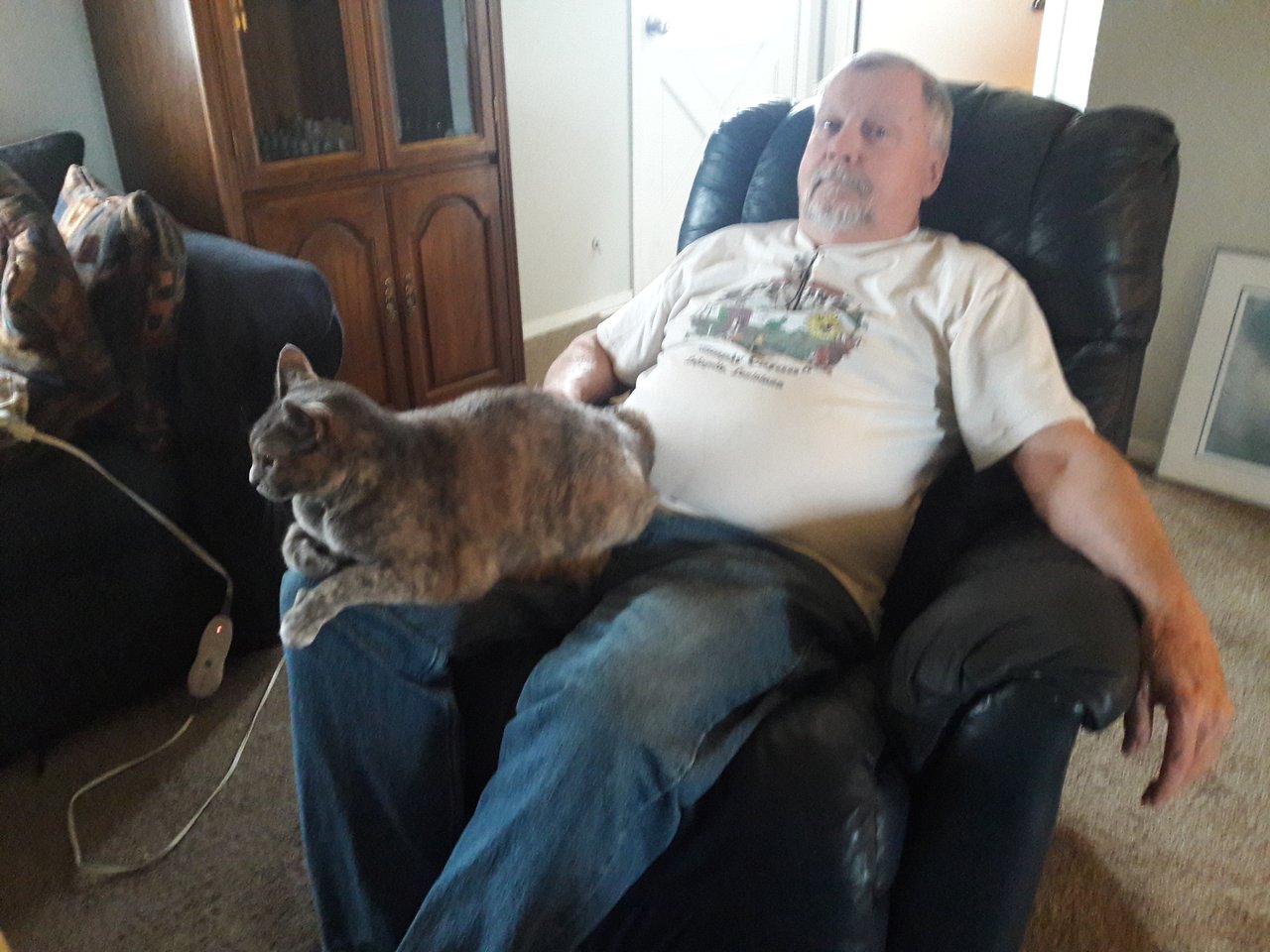 We are stuck in Springtown, Texas, at James Burns house. He has an acre and we have water and electricity so we can't complain too much. I have to dump the black tank periodically using our 35 gallon tote but it's not too bad. If I am lucky, Lexie, the cat, will sit on my lap occasionally.
Our next adventure will be a long term travel plan that we are working on now. Lots will depend on how the states open up in the future. There is so much to see and do. We can't wait!