TW: suicide, mental health, self harm
It is about 10pm local time, and I'm sat in a hammock outside by the pool of the lovely little villa we are renting in Barbados. The tree frogs are whistling, the neighbourhood dogs barking now and then. And the occasional sound of horns tooting and music playing from distant cars as people celebrate "Old Year's Night" here.
I am living here on this paradise island with my wife, 10 year old daughter and the puppy we adopted. I am working remotely for an amazing company, Ripple, with fantastic people. I'm enjoying the sun, sand and sea, going paddleboarding once a week. On the surface a charmed life, if you go by my photos on Twitter.
But 2021 has been one hell of a year. I'm not even talking about Covid or general world politics. That has been an ongoing background stress. Lockdowns, and Brexit and the country being run by simultaneously the most incompetent yet self-serving and cruel government in my lifetime.
But this post is going to be about the unseen stuff. The personal stuff. The bits not posted in grinning photos online.
A year ago tonight my wife attempted to throw herself off a motorway bridge.
It was around 2am, our eldest daughter (28) came bursting into our bedroom. "Matt, wake up, Mum's gone! Her chair is at the bottom and the door is open".
We live in a 3 storey house in the UK, and my wife has an ongoing degenerative issue with her knee. It dislocates every 4-6 weeks and she is slowly losing her mobility. We had to get a stairlift fitted to the house so she can get up and down the stairs to the bedroom on the middle floor. She spends about 23 hours a day in bed due to the pain an exhaustion of moving about. If her stairlift was at the bottom of the stairs, it meant she had gone downstairs.
I grabbed my phone and tapped on the "Find my" app to see if it could locate her phone. She showed up as a dot a short distance from our house near the M32, the main motorway in and out of Bristol. I threw on some clothes and started to run out the house, my daughter chasing behind in her dressing gown. The dot on the phone was hovering right over the motorway on the bridge where the road that passes our house crosses it. We came around the corner onto the sweeping hill that heads down to the bridge. I could see a car stopped on the bridge and two people near the centre of the bridge right over the middle of the carriageway and traffic below. It was cold and icy out, the pavement was slippery and the metal railings of the bridge were covered in a thin layer of ice. As I got closer I realised my wife was on the outside of the railing stood on a thin icy ledge. There was a woman I didn't know stood on the "right" side of the railing holding on to her. Talking to her. As soon as I got there I grabbed ahold of my wife. The woman said the Police were on their way. My wife was talking, but not making any sense. My daughter held her. 'Mum. Please. Don't let go". Before I knew it two police officers were behind me. They had a hold of her. I tried to explain to them about her knee, and she wouldn't be able to climb. We lifted, I don't really remember, but we got her back. She was incoherent, apologising. My daughter was crying. The unknown woman was talking to me. She happened to be passing and saw my wife and stopped. She was a retired police officer herself. It was 2am... there was virtually no-one about, but still a fairly constant rumble of traffic on the motorway below. That women randomly passing saved her life. My wife, who can hardly walk 20m without a walking stick or crutches had walked out the house in her nightgown, down the road, had climbed over the lower bit of barrier as the bridge started and had shimmied all the way long to the middle to be over the traffic below.
An ambulance arrived. They checked her over and drove her back home. The police gave my daughter and I a lift back. It turns out my wife had taken an overdose of painkillers too. They stayed with us at home, the risk assessment was that being New Year and with Covid about taking her to hospital was not the best move so long as she remained conscious. The police officers did police officer stuff, taking statements, etc.
My daughter and I sat down and cried. Our youngest daughter, 10, was still asleep.
My two eldest kids are not my biological kids. Eldest daughter, 28, had moved back home during lockdown. Our son, 29, who lost his sight when he was 18 due to a medical condition, lives a short distance away with his boyfriend. Their father was my wife's first husband. Was. He accidentally drowned about 6 years prior on Christmas eve. His girlfriend's dog fell in a river during a year of heavy flooding. He tried to rescue it and was pulled in just as the river went into a tunnel under the small town where he lived and the kids grew up. His body was recovered the other side. The dog survived.
That Christmas eve I remember youngest daughter, then 3 years old all excited for Father Christmas. The tree all decked and the presents all piled up under it. The knock on the door as two police officers came to deliver the news. The screams from my wife "How will I tell them?". The big kids. Their faces. A confused 3 year old.
Christmas since then was a muted affair. Advent calendars are a bit shit when they count down to when your Dad died. So it was just my wife, myself and the youngest at Christmas. The big kids both left home. They didn't celebrate Christmas any more.
But this year they felt up to it. The house was full, the big kids and their respective partners, the youngest, the dog, my wife and I. We had a fantastic Christmas day, food, drinks, games, it almost started to feel "normal". No to mention a few weeks prior I'd signed a contract to start my dream job working for Ripple in the new year.
That was 5 days prior. I was now sat on the landing in the hallway holding our daughter. Sobbing. Everything had just suddenly hit her. Just how close she was to losing her mother. We have a very dark humour in our family. To lose one parent is unfortunate, to lose two is plain careless.
So that was New Year. That was how 2021 started.
The following months involved various teams from the local mental health team. The "Crisis Team" and then eventually the "Recovery Team". It involved navigating various services, getting put on waiting lists, getting bumped off lists. Mental health services, already underfunded, breaking at the seams with added burden of lockdown.
My wife was no stranger to depression. The black dog that follows you around. She suffers from complex PTSD, trauma, and anxiety. Much of it from childhood events. Some of it related to the complex emotional feelings of helpnessless around her big kids' father's death. Death of both her parents in recent years. Death of her best friend. And around our son's loss of sight. A lot of it more recently due to her chronic pain and dwindling mobility.
My wife had several relapses. She would occasionally wander out the house in a daze. Oblivious. I ended up wiring up the house with sensors. I had magnetic contact sensors on the doors, I had PIR sensors front and back. I had alarms that would detect if her phone left our wifi network. I bought an Apple Watch and worked out how to ensure alerts would break through silent mode or sleep mode and wake me. My wife suffered insomnia, I had to sleep in another room in order to get any sleep.
I started at Ripple in February. It was amazing. I had about forty 1-to-1s in my first two weeks. Drinking from the firehose. Keeping notes on everyone I spoke to to try and remember. All over Zoom. I was technically a part of the London office, but we were all working from home. Although I mainly worked with people in San Francisco. The first big initiative I had was to start the RippleXDev Twitch stream. Inviting on developers to talk about what they were building. Showing off the breadth of the growing community.
There were so many further incidents, it started to become routine. My "office" was on the floor above our bedroom. During Zoom calls my watch would start screeching. I'd excuse myself and run downstairs to find my wife, sometimes not even dressed, walking down the street towards the bridge again. I'd bring her back, get her settled and get back on the call.
There was self harming. Cuts with knives. The knives were locked away. Cuts with scissors. The scissors were locked away. Cuts with razors. The razors were locked away. Medication was locked away. Excusing myself from a Zoom call, running downstairs. Iodine, bandages, tape. Back to the call. Should I still be working? Ripple gave me all the support I needed. But I needed to work. It was the distraction I needed.
We have some lovely woods and parkland behind our house. Literally on our doorstep. I got into a habit of taking the dog for a walk first thing in the morning as soon as I woke. I read an interview with someone who had started walking and running in the park barefoot. He said it connected him to the world. I tried it. Feeling the scratch of tarmac, then the unevenness of stones and gravel, then the warmth of earth. The squelch of mud. The cool damp of grass. The different types of grass. It was good. It was therapeutic. It grounded me. It was good to feel something. A selfie taken in the morning light. "Good morning!" on Twitter. The dog traipsing along behind me. Ripple had sent me some Airpods as a joining present. I fell in love with listening to 99 Percent Invisible podcast on my morning walks, the soothing voice of Roman Mars. Listening on the airpods – they would alert me if a house alarm went off. I was close enough to run back home.
One day I was dropping my son back home after he had come to visit for the day and check on his mother. As I dropped him off I got a call from my neighbour "Matt! Vik is sat on the window sill!". I drove back as fast as I could. As I came into our street, I saw my neighbour up a ladder holding on to my wife, who was sat on a small ledge above our front door. She had climbed out the window and somehow got across to this ledge. My neighbour's wife was holding the bottom of the ladder. It was not that far down, but enough to seriously damage you if you fell badly onto the concrete below. My wife was distraught. She was scared. She was fighting PTSD from childhood trauma. Eldest daughter was leaning out the window trying to hold on to her. Police arrived. An ambulance arrived. Shortly after a fire engine with aerial platform arrived. The street filled with blue lights. The officers: trained. They had practised this hundreds of times. The fire engine stopped in the middle of the street, equipment unloaded. Outriggers extended. And officer came inside and looped a rope around her waist as a backup and secured it to the bannister inside. The platform raised and got her on to it. Again, the ambulance crew assessed her. Again, the crisis team visited.
April. Lockdowns in the UK had started to ease a bit. Pubs were allowed to re-open with covid protocols in place. I had arranged to meet a former business partner and one of my best friends for a beer. I was telling him about a plan I had. I'd filled him in the latest on my wife. That took a while. I was telling him this idea I had about buying a static caravan (American: trailer) at a campsite near where we lived. We visiting this campsite a few times each year in my campervan. But the idea was to buy something permanent for the season. Perhaps something my wife could go to and relax. A different place than the house she was stuck in. I could even work from there, as all I needed was my laptop. My friend was telling me about Barbados. He'd been there on holiday just before Covid hit. I'd seen a news article about a visa that Barbados were offering for people to live and work from there. We joked about maybe I should just move to Barbados.
I couldn't.
Could I.
Could I?
Why not?
We talked about it. I tried to think of all the reasons why we couldn't do it. We couldn't come up with any. They have a British school system, so my daughter could do her last year of primary (American: elementary) school there. I was being paid more at Ripple than I was previously at IBM and worked out I could probably afford to do it. The big kids would stay and live in and look after the house in the UK. Instead of being 8 hours time difference from my colleagues in San Francisco, I'd only be 3 hours away. I had "met" an XRP community member a few years prior, Kieran Kelly, who lived in Barbados. As a bonus he was also chairman of an estate agent in Barbados so could help me find somewhere to live.
Maybe this is what we needed. Maybe the change in location would be what my wife needed to break her cycle of depression. We could find a single level house, so she didn't need to do stairs. Maybe a house with a pool? That would help her strengthen her knee. The warmer weather would help with her chronic pain. Maybe she could swap some Valium for sun, sand and sea.
I could use some sun, sand, and sea.
The next day I applied for the visa online. It is called the "Welcome Stamp Visa" and is valid for a year. Barbados gets a lot of its income from tourism. With Covid and the lockdown, it's tourism industry was hurting. Hotels were empty. Restaurants closing. So they had the masterstroke idea, "Do you work remotely? Then why not work from a paradise island?". The idea to bring people in who earn their money outside the island to come and live and spend in the local economy.
A few days later I got an email back from the Barbados government confirming we'd been granted the visas.
I told my wife.
"What? Actually?" "Yes" "As in actually, actually, got it" "Yes" "As in we are actually going to move to Barbados?" "Yes"
Her hands went to her mouth and she screamed.
We were actually moving to Barbados.
The next few months were spent organising things. Flights were booked for the start of August, the first "cheap" flights after the summer, a few weeks before schools went back. I contacted Kieran to start looking for somewhere to live, he put me in touch with Sally his lettings manager. I'd found a Facebook group of people on the Welcome Stamp visa that had lots of great information on it. Most people advised to rent somewhere short term to start with, get a feel for the island, then find a longer term place to stay. But we had very specific requirements. We wanted a place that would accept pets, had a private pool, was on a single level... and was within our budget. This significantly reduced our options, so we were happy to take a chance on signing a contract for a year. Sally found us two great looking places. We picked one and signed a year's contract.
I started getting other things in place. Passports renewed. We needed health insurance whilst there. My existing policy via work would not cover me for more than 3 months abroad. So I found a local broker and started the process of getting that sorted. Aware that insurance might be difficult with my wife's existing conditions. But this company were fine with it and walked me through all the application over the phone. I found a school for our daughter. It was a private school, stretching the budget a bit, but really looked like it would suit her learning style. It was based on a farm, and very much took an individual approach to teaching. It was the other side of the island, but there was a school shuttle bus that left from near where we would be living.
Transport. Most expats buy or lease car for the year. I didn't want to buy a car as I didn't want the hassle of dealing with the convoluted process in Barbados (they like their paperwork here!), and leases were crazy expensive (as is fuel). I also prefer for environmental sake to not have a car. So I made a bold gamble. I bought a Dutch cargo e-bike and arranged to have it shipped over. My wife had a mobility scooter in Bristol, but always wanted a trike (a bicycle was too risky for her knee nowadays), so I bought her a trike and an electric conversion kit for it. We had to ship the bike over, and I found a company that would ship them for us. We loaded the cargo bike up with various sundry items (mainly my wife's favourite tea bags) and I rented a van to take the bikes to get them packaged on pallets to ship over. I put my campervan up for sale. The proceeds of which would pay for all the up-front costs we'd need to move over.
We found out the dog would not be able to come with us. The airline were not flying pets at the moment. :(
Many other things happened in that time. My wife had a large sash window accidentally fall open and hit her on the head concussing her. She ended up in hospital for scans. Two weeks later, she fell off her mobility scooter, faceplanted the road, mashed up her face and concussed herself again. Back to hospital again. Then one day (the one day I went to visit the Ripple London office) she was pulled off the mobility scooter by the dog and fractured her wrist. So spent the next few weeks with her wrist in a cast. Not ideal for someone who needs to use a walking stick or crutches to move about.
Finally it was a week before we were due to fly to Barbados. Everything I could organise was organised. House, flights, school, insurance, transport. Barbados required us to quarantine on arrival, and so I booked us in a week at the Hilton. We didn't think we'd need a full week, we'd only need to quarantine until our covid tests returned negative. But I thought we could start as a holiday and not have to worry about anything for the first week. Also it was my wife and I's wedding anniversary that week, so thought that would be nice treat.
I bought Vik a new manual wheelchair to take with us, as the electric scooter was staying in the UK. This meant she'd be able to travel with it at the airport. I'd also heard Barbados' pavements were pretty rough and so opted for an "all terrain" wheel chair for her with big chunky tires. They could also supply a special raised leg that she needed for her leg, as she can't sit with her knee bent.
I had booked two weeks off work. One week before we left to get everything finally sorted, and then one week on arrival to settle down. A few days before we were due to fly, Vik's knee dislocated. So she was bed-bound. I had to pack everything. We had six suitcases between the three of us. I was frantically trying to get everything in and make sure we we were not overweight on any of them.
We had to go get updated tetnus jabs, and our covid tests shortly before flying. That was a nerve wracking 24 hours waiting on the results. Everything planned, what if one of us tested positive? Vik had had covid in March the previous year, and we are pretty sure our daughter had had it too. As far as we know, I had not.
The tests came back negative, we were all set! A taxi was due to pick us up about 4am to take us to the airport. I was up all night still packing everything. Then finally myself, my wife, her wheelchair, my daughter, 6 suitcases, carry on bags all set off for the airport.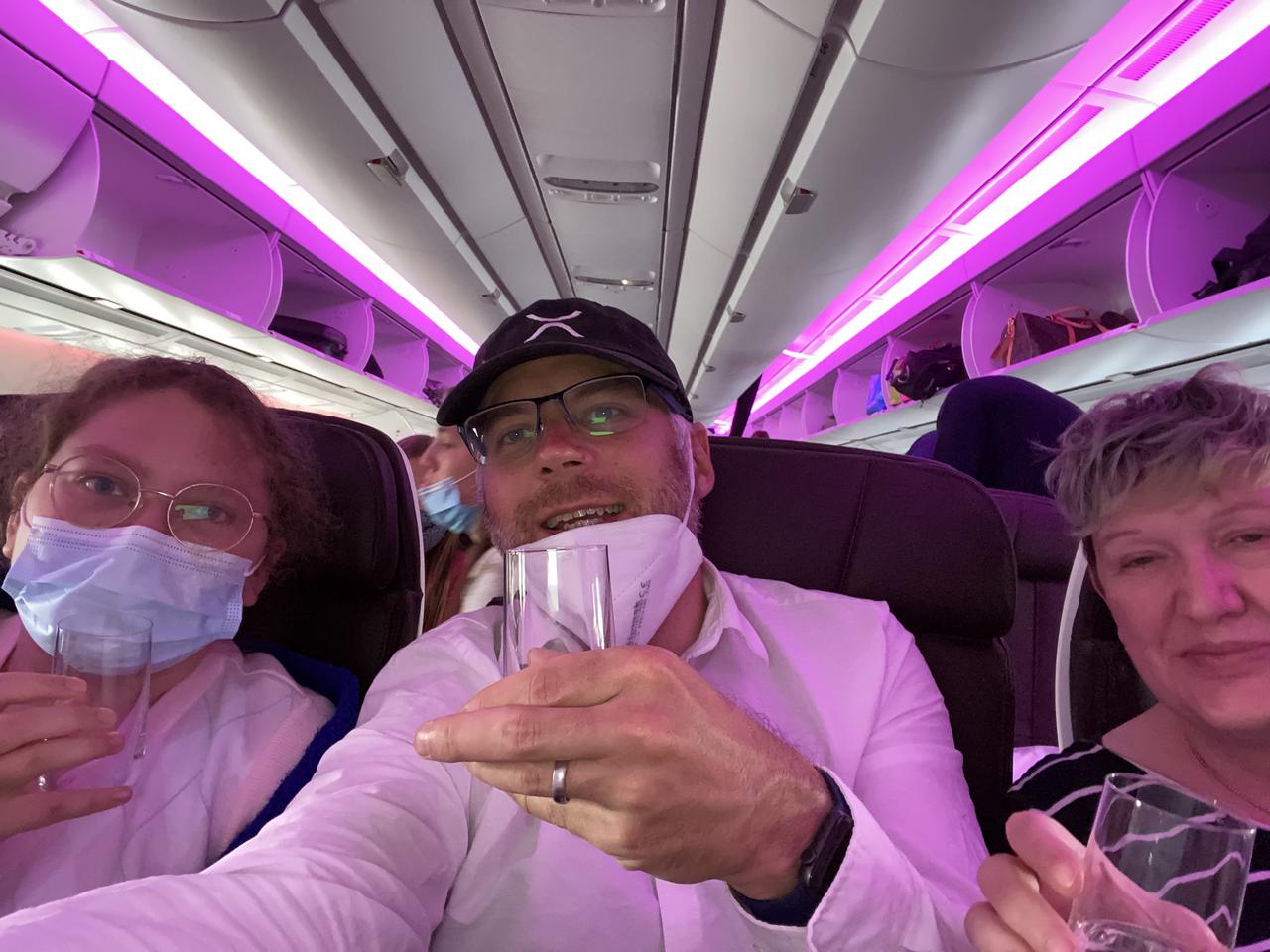 The flight was as good as could be. We knew my wife was going to be in agony on it. A 9 hour direct flight, after a 2 hour drive to the airport. We had manage to book bulkhead seats so my wife had room to keep her leg straight. We also had enough painkillers to take out a small elephant.
We were in Barbados. Actually here! Four months earlier a crazy idea after a couple of pints in the pub was a reality.
We spent the first week in the Hilton. My wife recovering from the flight. Our tests came back negative and we were free to roam. I hired a car for the first month here, as I knew the bikes would be a while to arrive and we'd want to explore. We moved into the house, and it was everything we needed. It had been built by a Swiss woman 30 years ago who had since moved to Chile in her 80s. We could walk to the nearby petrol station and mini mart. After much chasing of customs, our bikes eventually were delivered to us. I could cycle to the local supermaket and drop my daughter off for the school bus.
My wife was able to move around the house in her wheelchair, and after a while her knee was better for her to walk again. She was able to go swimming in the pool. Everything was looking pretty good! The sunshine and warm weather completely changed her. The depression vanished. The "black dog" was gone. Even when her knee dislocated again and she was bed-bound, she could look out the window and see palm trees. I could also wheel her in her wheelchair to the pool and lift her in to float around then lift her back out again.
Our daughter settled in to the new school. At first it was online online due to Covid restrictions. Then they formed "bubbles" for the classes, and her class was back at the school in person. Her class in only 5 kids.
All was looking pretty good.
Then the seizures started. My wife was walking through the living room when I suddenly heard a crash as she hit the floor and started convulsing. I held her head until the fit subsided. We thought maybe she was dehydrated? We had no idea. She had has a bit of a stomach upset that week, so maybe related to that? Then the next day it happened again. Another crash and broken plate. Then they kept happening about 5-6 seizures a day. Generally only lasting 10-20 seconds at a time. She would smell burning beforehand and knew to get on the ground. Not an easy task with a dodgy knee. Of course one of the seizures she dislocated her knee in the process. We went to see a local doctor. One seizure she banged her head really badly and ended up in the clinic having xrays to check it was ok.
Remember the medical insurance we took out? Well I went to claim on that for the x-rays and doctors visits. Being from the UK, having to fill out medical claims forms is all a bit weird. It just feel strange having to hand over your credit card as they wheel you into an xray. As it turns out we were mis-sold the policy, and my wife was not actually covered on it. According to the actual medical underwriter, her coverage was "postponed for a year". On a year long policy. Designed specifically for people on the one year visa. Yeah. Go figure. Then started the process of trying to sort that out. The insurance broker admitted they had screwed up and not noticed her coverage with postponed for year. The one thing you go to a broker for is to get you the coverage you need. They failed in the one thing they had to do. Not only that but they had charged us for her cover. They offered to refund us the premiums. Of course that is no good as my wife needed the actual coverage, and now we are in the middle of something and no new insurer would take her on right now in the middle of it. They said as it was their error they would work out a way to give her coverage. Eventually they offered us a one-off cash settlement of a pretty small amount. To put it in perspective we have already spent half on of that on bills and still have no idea what is causing the seizures.
Meanwhile, we hired a local woman to come and clean and cook for us as my wife unable to and I was working each day. This turned out to be a godsend. Nicole is our saviour. Not only does she help out with the cleaning and laundry, but she runs a startup business selling cooked meals from her house. So we get a homecooked meal each day from her too. She has become a great friend, and our guide around the island. Anything we need, she knows where to get it. I've been trying to learn some local cooking, and local customs and way of life. She says I'm a Bajan now :)
One of the things that I shipped over with the bikes was a standup paddleboard. I was determined to ensure I get to the sea once a week whilst here. I've found a way to attach the board to the side of the bike and can cycle down to the beach and back. Oh and we have adopted a local puppy, we named Wilbur, from an animal shelter here. The plan was originally just to foster a dog until we are able to fly our dog over, but I misread 6 weeks old for 6 months old. When this thing turned up no bigger than my hand of course we fell in love with him. He is now 4 months old and comes paddleboarding with me each week.
The 5-6 seizures a day continued for the next couple of months. I was back to diving out of zoom calls to deal with my wife who was on the ground convulsing a few meters away. She was referred to another doctor, who gave her some new medication. That didn't help. Then he tried anther medication. That didn't help either.
I was due to be flying to Las Vegas to MC the inaugural XRP Ledger Developer Summit, Apex. But due to my wife's condition I needed to pull out. Luckily my amazing colleagues filled in, Amy, Jas, Saleena, thank you! So I followed along remotely, watching the excitement from afar.
Also, the house started to have some problems. The roof started leaking in heavy rain, likely damaged from a hurricane that passed through Barbados a month before we arrive. This then caused the floor tiles to buckle and need replacing. A few tiles were pulled up, but then more buckled... eventually workmen pulled up the entire floor. I had to decamp my office to outside on the patio.
Then one day the seizures just seemed to stop. She went a few days without a seizure. But then in the middle of the night her leg cramped up really badly all twisted and started shaking, like it was having it's own seizure. She was in agony and screaming in pain. We managed to get the doctor out to visit and gave her a morphine injection. She eventually calmed down and fell asleep. A few days later she had a very bad seizure whilst in bed. She fell out of the bed, badly hit her head, and then continued to have about 20 seizures in a row for about 2 hours. She'd come around then no sooner had she, she'd start again. Her arm was oddly twisted behind her when she had a seizure. Similarly to how her leg had cramped up before. They seemed to then stop again for a few days. We found an osteopath to see if he could determine what was going on. We thought maybe the seizures were related to a trapped nerve or something? The first osteo session seemed promising, but clearly would take some more sessions. So we booked another one.
The morning of her osteo appointment she had another bad seizure, her arm all twisted again, but in the process she dislocated her shoulder. She popped her shoulder back in (as she does her knee). We took her to the osteo as planned, where she had another seizure in the waiting room. The osteo took one look at her and said she needed xrays on the shoulder. We raced her to the clinic again. Morphine IV, x-rays again. And more bills. She couldn't feel anything down her arm or hand. They couldn't see anything on the scans and so referred her for an MRI.
I was due to go to Miami for an XRPL Community meetup the week her scan was. Nicole agreed to take Vik to the MRI appointment and keep an eye on her whilst I was away. I was only going to be gone two nights, but this was first time I'd been away whilst the seizures were going on. The morning of the MRI I was on my way back from Miami and I got a call from Nicole. Vik had had a seizure in the MRI place. Also the bill was twice what they quoted me. So I was frantically trying to transfer funds over for her to pay for the scan.
I got back to Barbados and found the Covid test I'd taken in Miami was not the right type (they did not accept 'rapid' PCR tests, only standard ones). So I had to quarantine a night on arrival again.
So where are we now? We are still waiting on the MRI scan results to be looked at. A legal firms is looking into the insurance issue. The seizures are now down to just one a day on average. My wife still can't feel anything in her arm or fingers. The black dog of depression has returned briefly to her, but I think we have it under control. I am managing to get to the sea to go paddleboarding once a week still.
Ripple is going great, the dev community is growing. Through all of this, amazingly I've produced about 40 episodes of the RippleXDev livestream on Twitch. I've been involved in the programme for Apex, the first XRP Developer summit. I've spoken remotely at numerous conferences, been involved in the XRP Ledger Grant programme. There are lots of really exciting things coming up for next year on the XRP Ledger (NFTs, sidechains, hooks!)
Today, as we were not going out tonight, I treated myself to a deep tissue massage with a visiting massage therapist. I think this might be a new routine, going into the new year floating on a cloud.
It is now nearly 1am. Happy New Year! What a hell of a year! I've no idea what 2022 will hold in store. I think we all have a collective wariness about it. Thank you to everyone who has helped me this last year. Tomorrow I think I'll go for a paddle :)