Jefferson Bookcases – Second Shellac
Originally written Aug 15, 2020
The second set of shellac generally goes on the day after the first set of two coats. I put the shellac on thickly enough with those first two coats that it takes a while to dry. Not overnight, but it doesn't hurt it to wait, and letting it dry overnight keeps my production line moving smoothly.
While the goal with the first two coats was coverage, the goal with this one is getting a good finish. So I start by inspecting the case, lightly sanding each side with 320 or 400 grit sandpaper. This turns it from a slightly rough surface (because of dust and raised grain) to something that feels very smooth to the touch. If there are any runs or seams, I'll give them a second swipe with the sanding block and make a mental note to hit them more heavily with the brush so today's coat of shellac will redissolve that area and smooth out the imperfection.
I do the front and inside of the case first, followed by the four outside sides, working clockwise like yesterday, and finishing with the back of the case.
I'm laying on a fairly heavy coat still. I want to make sure any exposed end grain on the dovetails gets good and wet, and the rest of the visible surfaces of the case look good.
That's about all there is to it. I use the window light to inspect each side of the case as I'm working on it. Looking at the wood from a low angle will show any seams or drips so I can fix them up.
Once the case is done, it goes onto the marked piece of cardboard to dry.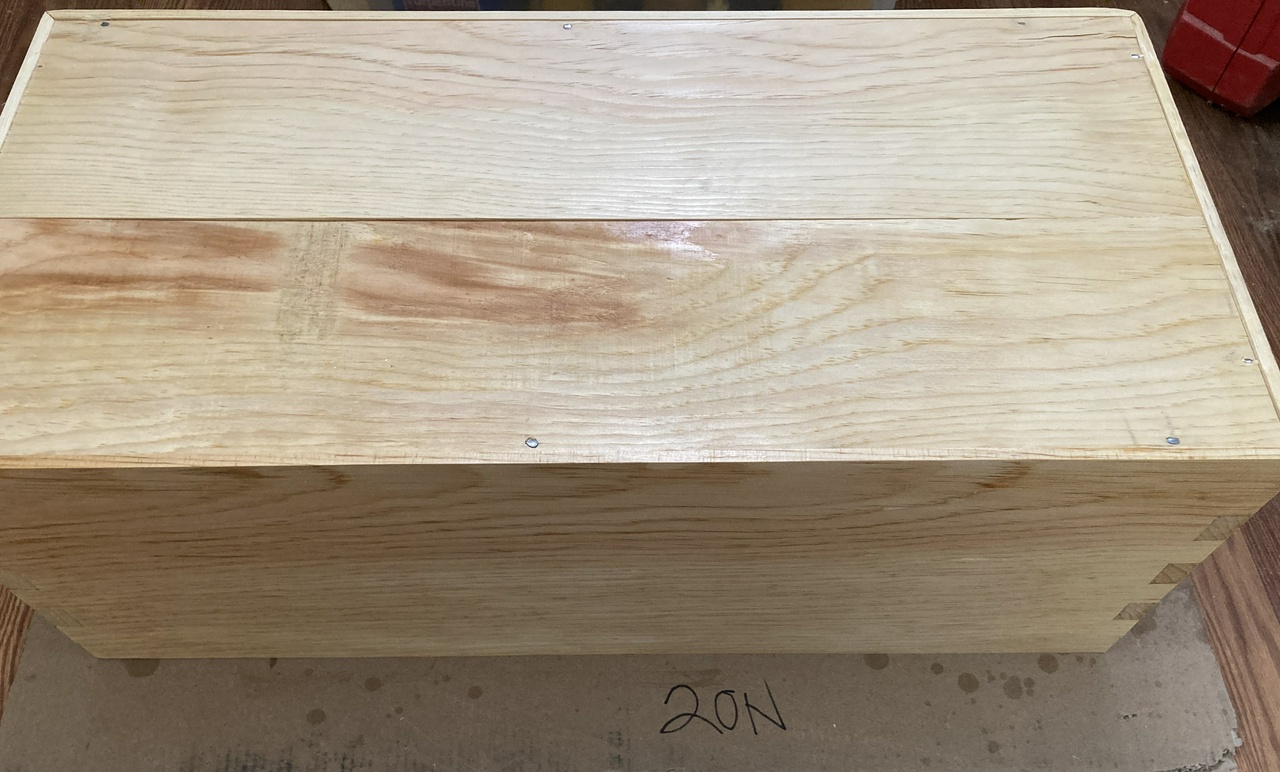 Tomorrow I'll give it a rub with my hands as I carry it into the house, and if there are any rough spots, I'll wipe them with a piece of brown paper bag before stacking the case with the others and filling it with books.
---
Jefferson Bookcases Contents #woodworking #bookcases #finishing #shellac
Discuss... Reply to this in the fediverse: @davepolaschek@woodworking.group