Start your new blog
Write.as is the simplest way to publish to the world.
Our features
Focused on writing
A Write.as blog puts your words at the forefront, leaving out the unnecessary, so readers can focus on your writing.
Private & secure
Your identity and data is safe from prying eyes, so you can express yourself more freely.
Write anywhere
Publish from your browser, mobile device, or Chromebook with our highly-rated apps.
Stable
Your blog won't get a major redesign without your knowledge. While always improving, we keep major changes to a minimum.
Flexible
Publish individual shareable articles, or bring them all together into a full blog. Write.as is a blank canvas.
Here to stay
We have a simple business model that lets us keep the lights on for you to keep writing.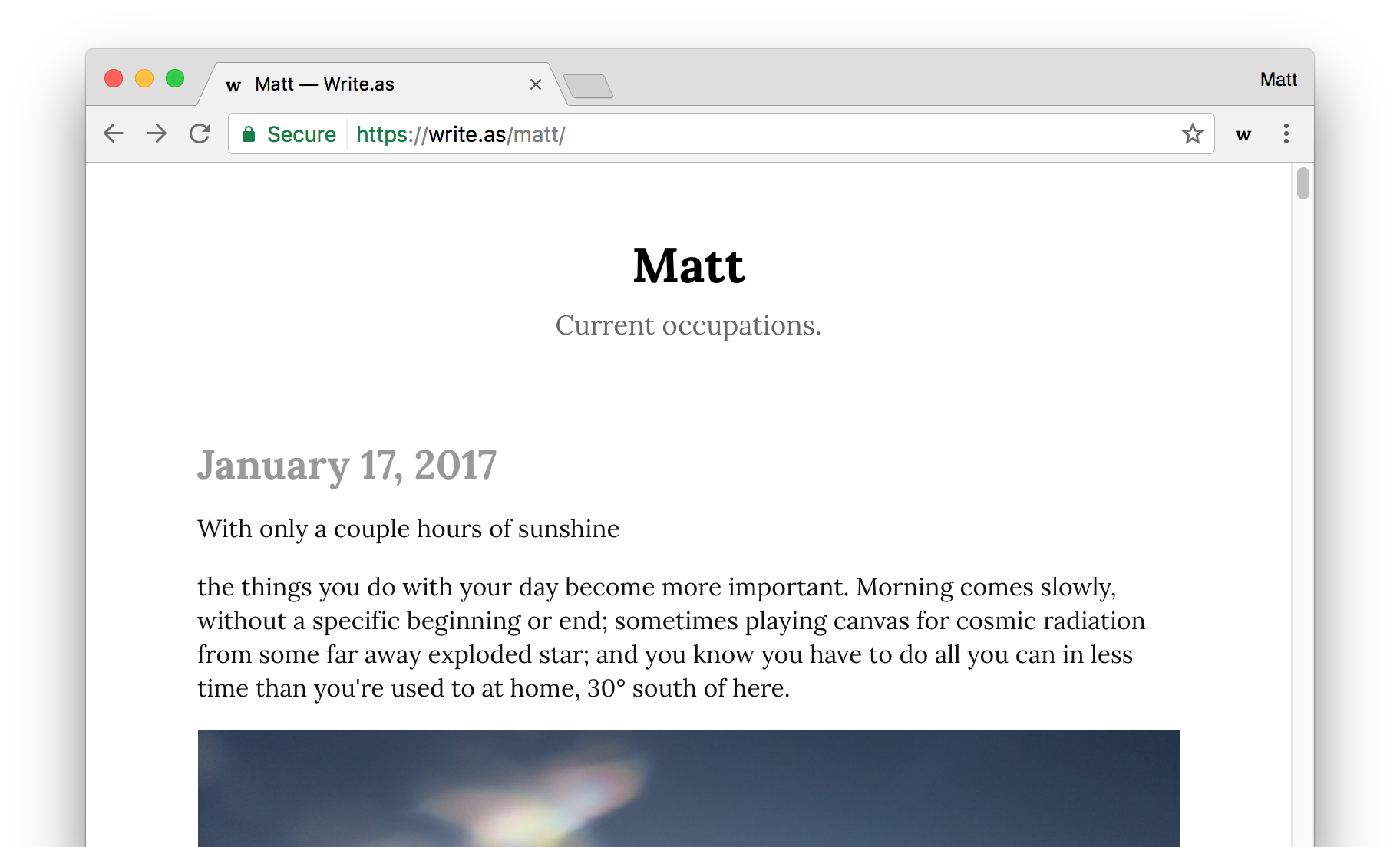 ---
Upgrade for the full experience
Casual
$1
per month, billed yearly
---
For infrequent but avid writers who want to reach more people.
---
3 lightweight blogs / identities
Format posts with Markdown
Unlimited posts
Publish anonymously
Access your posts from anywhere
Organize your posts with hashtags
Up to 100,000 characters per post (about 20,000 words)
Unlimited cross-posts to Twitter, Tumblr and Medium
Use your own domain name
SSL included with your domain
Showcase your writing on Read Write.as
Easily move posts between blogs
More ways to export your data
Pro
$6
per month
---
For writers who want more control, flexibility, and tools to build an audience.
---
10 lightweight blogs
Up to 500,000 characters per post (about 100,000 words)
Everything in Casual
Photo hosting with Snap.as
Deep visitor statistics
Static pages
Password-protect your blogs
Create completely private blogs
Choose from different blog formats
Customize your blog with CSS code
Post via email
Human support on weekdays
Early access to new features
Ready to get started? Create a blog.